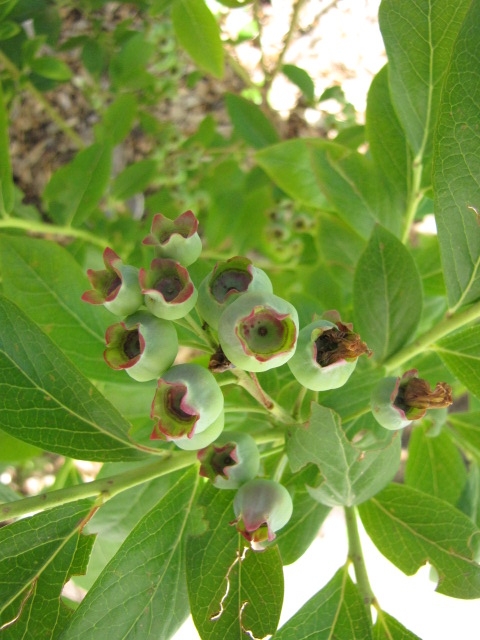 Welcome back! Â Today we will walk through our sunny side yard garden, and touch on a few other elements as well. Â When we bought our home five years ago, the yard was all sod, weeds, a split ornamental plum, invasive bamboo. Â All of those elements are gone now, and we have been adding more perennial crops and improving the garden design as time and budget allow. Â One of the first plants we began to add is the highbush blueberry. Â  Because plants can take five or more years to establish and produce a mature harvest, we wanted to get them going as soon as possible.
Altogether, we have eleven high bush blueberries, four half-highs. Â Last year, we added seven low bush blueberries, which are easily tucked in among other plants and produce smaller, but more flavorful berries. Â This year, for the first time, we will get a decent harvest of blueberries! Â We are certainly looking forward to increasing yields over the next several years.
In the side yard, and across the path from the highbush blues, two quince trees, strawberries, marionberries and raspberries grow along the fence.
The quince trees bloom first, followed by strawberries, then raspberries, then the marionberries. Â A sequential floral feast is available to the honeybees all spring.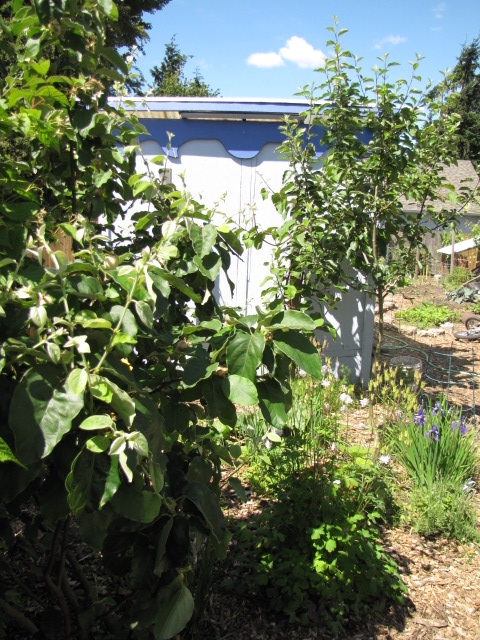 Looking toward the backyard, the quince (trained as a bush) in the foreground screens the fairy garden and Sunchoke patch. Â Around a young Ashmead's Kernel apple, directly in front of the shed, an apple guild serves as the children's fariy garden. Â Iris, columbine, mint, dwarf English lavender, rhubarb, yarrow, peonies, borage, bee balm and a newly planted lilac are all beginning to establish themselves. Â These plants all benefit the apple tree and its pollinators, and provide a playspace for the children, who tuck sea shells, stones, old wicker baskets in for the fairies.
Here is a view from the shed, looking up the little side yard path. Â day lilies and horseradish line the left side of the path before the blueberries. Â A rambling female fuzzy kiwi (left and top foreground) likes to send tendrils out after the apple tree, and I am constantly coaxing her back over the shed.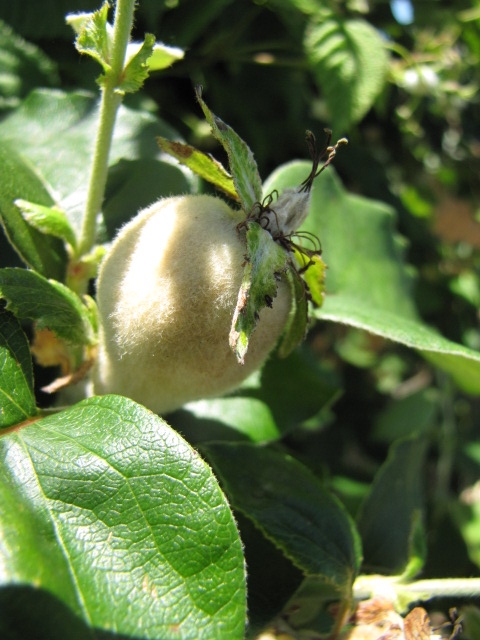 This year, we will get dozens and dozens of quince. Â The leaves of the trees are affected a bit by rust, but it never seems to bother the fruit.
The weekend is packed with derby for me and the girls, but I will have a post up early next week. Â Next will be a visit to the backyard gardens, including the bulk of the orchard space, annual beds, and a visit to my favorite and most stubbornly slow growing plant in the garden.
Blessings on your weekend.