There's Nothing Like a Home-Grown Fig, and Now is Their Time to Shine
As a child of the 80's, I grew up with a very limited view of figs. They were that brown mushy stuff with little crunchy seeds in the middle of a Fig Newton. The End. It was not until I was an adult that I came to understand that a fresh fig is a truly exceptional fruit, and the only way to enjoy its full potential is to grow them yourself (or have a friend who does!).

About a decade ago, I started growing figs, and they have proved to be one of the best additions to my garden. For me (in zone 8b), figs have been hardy, disease-free, and consistently productive. (Sure, I have to share the top-most figs with the birds, but I always plan my garden with wildlife in mind. And when your tree produces 200-300 figs, there is plenty to share with the jays.)

Garden Figs are in the Moraceae family, along with mulberries. And like mulberries, figs are sugary sweet, without the higher acidity of most other garden fruits. They taste like pure sweetness, interwoven with notes that can vary from watermelon to strawberry to guava. In fact, figs can be so cloyingly sweet, my eldest kid likes to squeeze a little lime juice on her fresh figs to balance the out. (The Brix – a meaure of the sweetness of a food – of your average apple is about 14. A fig can top 25.)

No, There's No Wasp in Your Garden Figs. They Aren't Even True Fruit.
You may have heard that inside each fig is a little wasp. I absolutely love it when folks get excited about our pollinators, and I do not want to take the wind out of anyone's sails here. But when folks comment on pics of garden figs with, "Did you know that there's a little wasp inside each one?", I can't help but reply that this isn't quite correct.

There are two native figs in the United States that require pollination by wasps, but neither of them produce food we eat. The Strangler Fig (Ficus aurea) and the Banyan Tree (Ficus citrifolia) both grow wild and require the services of our two native species of fig wasp to pollinate them.
Now, you may have eaten figs that have teeny tiny wasps (or remnants of them) inside. Smyrna (also called Calimyrna) figs, grown in hotter climates around the world (and in California) do need to be pollinated by wasps – a process in figs called caprification. These are the figs we often purchase dried and are used in products like those newton bar cookies.
However, the vast majority of us growing figs in the home garden are growing the Common Fig (Ficus carica). These delicious figs are not even a real "fruit". They are an inverted packet of flowers that is loaded with sweet nectar when mature. There is no pollination occuring at all. That fig you're enjoying from your garden is not a fruit, it is a syconium produced by female trees – essentially a stem-like structure packed with florets on the inside.
Needless to say, if you're squicked out by the idea of eating wasps in your fruit, or maybe you're a vegan and thought you can't eat figs because they're essentially carnivorous, you don't need to worry about common garden figs. What you're eating is an inverted basket or "urn" full of sweet little flowers that will mature into a delicious food without any pollination whatsoever. But, let's go ahead and say it's a fruit, because that's how we know and enjoy them.
Determining Peak Ripeness for Maximum Flavor and Sweetness
Like most of the fruit we buy in the grocery store, fresh figs in the produce aisle will have been picked underripe. Unfortunately, figs picked at peak ripeness are the very definition of ephemeral. They do not ship, and last no more than a day or two. But underripe figs lack the honey texture, sweetness, and complexity of a fig that is allowed to mature on the tree. The fig you buy in the grocery store will only ever be a shadow of what if could have been if left to fully ripen on the tree.
Once picked, the fig will not continue to ripen. If you want to enjoy figs with the best possible texture, maximum sweetness and most developed-flavor profile, you must grow them yourself and pick them only when truly ripe.

If you want to know how to determine peak ripeness for your figs check out my video below (You can skip to the 4:30 mark to get right to the "how to determine ripeness" portion)

Growing Figs (and a Few Cautions)
Perhaps this post has gotten you excited about growing common figs if you don't already grow them. Let me help you pump the brakes a bit. Permaculture is about effective design, and knowing what you're in for when planting figs can help you determine if they are really right for your garden.
Figs can handle a wide range of soils, but cold is the kiss of death to a fig. They are hardy to 15F, but can start experiencing die-back with temps below 30F. Breba figs can be frozen off just below freezing, impacting next summer's yields.
Figs do exceptionally well in pots, so in colder climates you can bring them into a greenhouse or the main house under lights in winter and still enjoy garden figs. In my climate, they thrive in the ground with absolutely no care. I never protect my figs, even if we get snow. I simply accept that some frost damage may occur, but the tree itself will be fine.
Some questions to ask, and crucial things to consider before you plant a fig:
Do you like figs? If you haven't eaten a fresh fig, consider asking around in your garden club if someone grows them, so you can try them first. They are startlingly sweet, and some folks find them overwhelming. Some folks are thrown off by the texture. Always grow food you actually enjoy eating, so give figs a try before you plant them.
Can you use up the harvest? Figs can produce prolifically. Have a plan for making jam, drying, and sharing with the neighborhood.
Figs are aggressive plants. Are you ready to bring that into your garden? Their roots can be absolute beasts. I grow my figs at the back of my garden, far away from my house foundation, and as far from my neighbors' foundations as possible. (If your fig is "too happy", take a shovel and chop just inside the drip line to damage the roots and restrict growth.)
Are you willing to prune? Figs need pruning both to keep them from becoming giant rambly beasts, and to keep fruit producing within reach. Depending on what kind of fig you grow, it needs to be pruned differently. Some figs like my Desert King produce one crop – called a breba crop – per year. They require a different pruning technique than my Negronne fig, which will set two crops of smaller purple figs yearly – one in July (breba) and one in September (the main crop). Learn how to properly prune your figs to maximize your yields.
Figs produce a white latex which contains a compound called ficin. Some folks (like me), have a very strong reaction to ficin. (This is why some folks say fig wood is toxic to burn, while other cultures burn it readily). Ficin causes a red, blistery awful rash if it hits my skin. I wear long sleeves when pruning, and avoid pruning trees when the sap is running if I can. If you don't know your reactivity to fig sap, wear gloves and protect your skin.
Figs can drop overripe fruit, which can attract wasps and create a mess on the ground. Do you have a plan for fallen fruit? I grow my figs in my chicken run, which means that any figs that drop are immediately eaten by chickens and ducks eat every last bit.

Which Varieties and Where to Find Them
The good thing about common figs is that they are 1. all female and 2. don't need to be pollinated, so you only need to grow one variety. The question of whether you'll want to stop at one fig is another thing entirely.

I did a lot of fruit tasting before I chose my fig varieties. If you're unable to try figs before you buy, I suggest consulting other fig enthusiasts to see what they like best and what grows well in their climate.

I have two figs, Negronne (also called Violette de Bordeaux, Petite Negra, or Ronde de Bordeaux), which is a smaller (but still vigorous) fig that produces medium-small deep purple fruits with burgundy-red interior. To me, these smaller fruits do not diminish my opinion of this tree at all, because while each fruit smaller, the flavor profile is superb. Each fruit has strong strawberry overtones, and melts in the mouth.


Negronne figs also dry well, and make beautiful, deep maroon-colored jam. It is by far my favorite fig of the 8 or so varieties I've tasted. If autumn is mild, they will give you two crops a year. And an additional bonus: unlike many of the larger figs, these more petite fruits are not prone to splitting while maturing.

My second fig, the Desert King, is one of the most common figs grown in my area. It's easy to understand why. This large vigorous tree can get 35 feet tall without pruning, and its fruits are equally impressive. The green fruit with a pale pink inside can be as large as my fist in a good year. While they only produce one crop a year, some years I get as many as 250 fruit of of one tree.

There are dozens of other tasty and beautiful fig varieties on the market, with varying cold hardiness, productivity, and fruit shape/color. My favorite source for fig trees is One Green World Nursery here in Portland, Oregon. They ship all over, and have a huge selection of permaculture trees, shrubs, and perennial vegetables. You can also propogate figs very easily from cuttings, so ask in your local garden clubs when folks are pruning if you can take cuttings and start your own tree for free.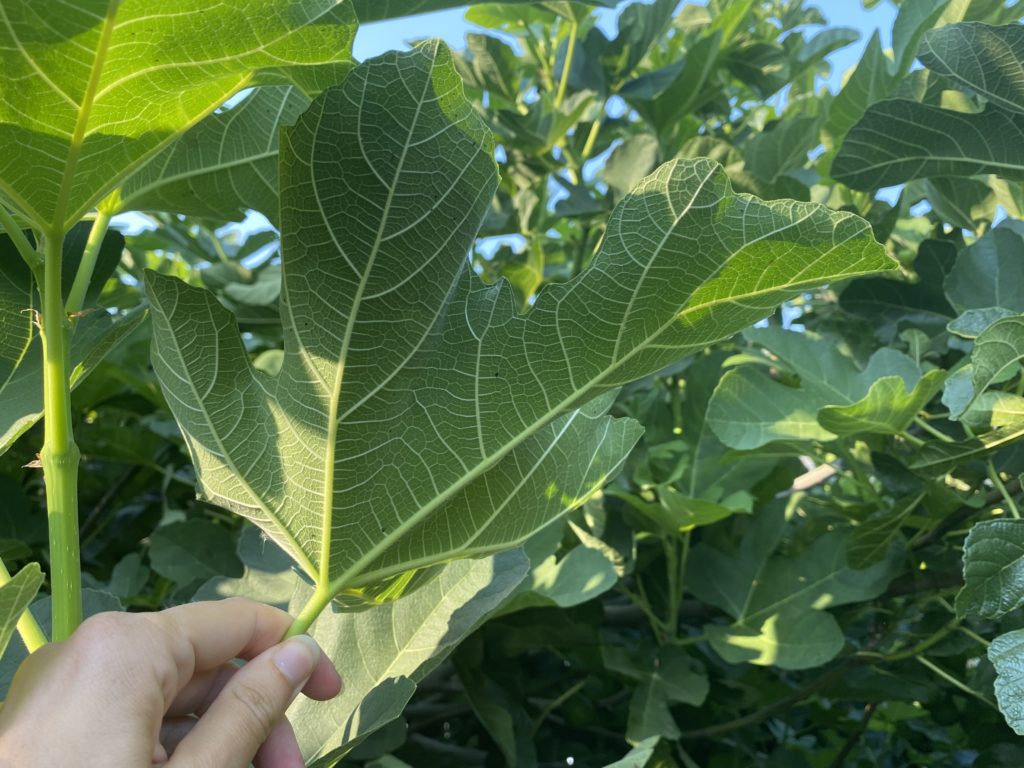 If you currently grow figs, I hope this post helped you know when to pick for maximum flavor and enjoyment. If you don't grow figs, I hope this post encourages you to consider common figs for your permaculture system.
There is absolutely nothing that compares to a fig picked fresh from the tree at peak ripeness. Permaculture design creates an opportunity for us to expand the diversity in our diets, and the pure enjoyment of our food. And a fresh ripe fig is the very definition of pure enjoyment.