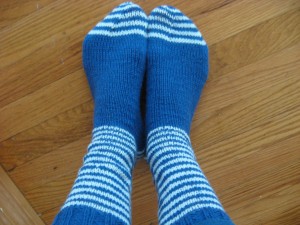 A new pair of socks off the needles.  I have an addiction to stripes, both for looks and simplicity.   I used to like more complicated color work, but knitting with 4 kiddos running around means it's hard to stick to a chart and actually make progress on more involved patterns.
The yarn is Brown Sheep Nature Spun sport purchased in college (eek!) and finally got around to using.  I'm doing my best to work through my yarn dresser upstairs and completely de-stash before I buy more yarn or do any extensive spinning.
I finished the blue stripeys just in time, since this week I wore a big hole in my favorite pair of striped socks, and I haven't had time to finish darning them yet.  (For a great darning instructions, check out Wool and Chocolate's darning tutorial.)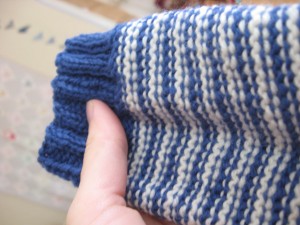 A view from the inside while I'm sewing in tails.  Even simple color work should have its own loveliness on the wrong side.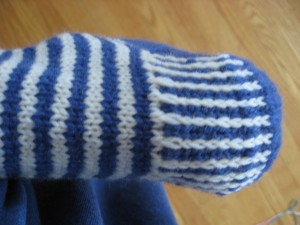 Good ol' slip-stitch stripe heel.  I like using it because (obviously from my picture earlier), my Birkies wear hard on the back of my socks and I like a double-reinforced heel for more infrequent darning.
Glad my toes will be toasty warm at the Trackers pirate potluck tonight!