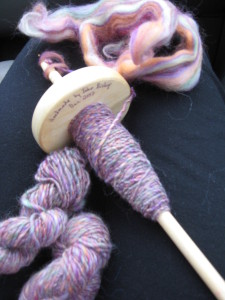 Some spinning I was working on as we drove to Hood River this past weekend.  It's 100% Oregon wool that I bought while volunteering with my guild at the Spin-In when we lived on the coast.  The roving looked so pretty, but I was a new and inexperienced spinner, and I realize now that there were too many colors in it – burgundy, purple, forest green, grey, orange, and a little yellow –  and it looks muddy when spun up.  I think it'll make okay baby booties or an edging on a baby sweater.  Overall, I'm not too impressed, but I feel like I have to finish it before I can start the gorgeous fawn alpaca top I bought in Hood River.
(my father handmade me this lovely maple spindle, btw.  It spins smoothly and evenly and produces a nice worsted weight yarn.  He's also made me one of oak and one of walnut that are great for sport and fingering weights)
also,  i stumbled upon a huge number of giveaways today (what's up with that?)-
Grosgrain is giving away a cute red ridinghood jacket – check it out.
BeckyKnitsToo requested cute halloween costume ideas and a linkback for her contest – my favorite was when Firecracker was a bumble bee for her 4th halloween (which also happened to be her third birthday).  She wore black a leotard and tights, black and yellow leggings i had knit, wings, antennae and a black and yellow striped stinger that was safety pinned to her bum.  She ran around "buzzing" all day.  The best part was when a kid at preschool bumped into her, and immediately leapt backward and shouted in surprise, "ACK! … Hh, whew.  For a second I thought I was going to get stung!"
really great baby sling giveaway at here.
soap giveaway at Sweet Figments.
also a giveaway at Noodles and Milk
cute birdie letter set giveaway here.