Kristi – don't read below – Christmas present spoiler!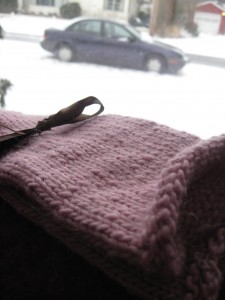 Finished a pair of these for my sister-in-law for Christmas (I also plan to make a grey pair for myself, like A Friend To Knit With's originals, after Christmas). 
They were knit from Brown Sheep Lamb's Pride in Victorian Pink.  I made a few little modifications, and am really happy with them.  Two snowy evenings of relaxing knitting (while holding a sleeping baby and watching John Adams) and they were done!
With some leftover yarn from other recent knitting, I also churned out a few coffee sleeves to go with them (my SIL is a Starbucks addict, so I thought they'd be appropriate.)Â  The pattern is here.
Okay, back to finishing packing and trying to get through on the jammed airline phone system to see if we can get a flight out. (The newsreporter just said some folks can't get replacement flights until Christmas Day!  Our flight isn't technically canceled yet, so they can't rebook us, but ALL the other flights before our flight have already been grounded.  If ours is grounded, we'll be the last to be looking for open seats – and we are a family of 5 – not so easy to rebook.   Doesn't bode well…but it just goes to show how little control we really have over things… )
Wishing you all peace and comfort in the midst of a blizzard and stressful holiday travel.