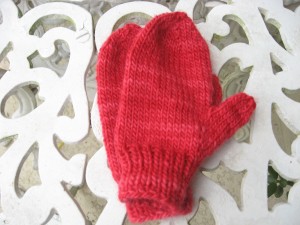 We're home from Florida and back to the grey, cold, foggy drizzle of the Pacific Northwest.  Sigh…I love Portland, just not in January!
So, to keep our spirits up,  we have been taking breaks from the unpacking to research our Valentine's Day crafts for this year – so many great ideas and we're having a hard time narrowing things down!  Many Valentine's craft posts here in the coming weeks.
I have a little surprise of my own for the girls, too.  Back during our snowstorm, they requested some new mittens, and I have finished this pair, for Firecracker.  They are of Lamb's Pride Worsted in Cherry Swirl, on 5's.   
I'm working out a pattern for Little Hen's that have a lightly ruffled cuff and are in pink and pale blue (she loves blue).  I'll have the pattern and pictures up early next week, I think.
Now, up to the attic to dig out some Valentine's-y craft supplies.  Hmm…where did i put the doilies and heart-shaped craft punches?