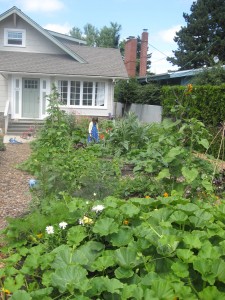 It's late July in the BCS Teaching Garden @ Salt of the Earth Urban Farm!  The pumpkin vines have taken over!  The runner beans are finally climbing their poles, and we have summer squash setting on every plant!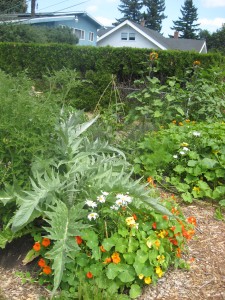 The garden is really changing – we pulled all of the garlic and shallots from our family beds and will expand the Teaching Garden this fall (we're planting fava beans there).  All of the peas are gone, and this week, we're sowing fall crops like rutabagas, beets, and cauliflower, in their place.  The peas in the front yard will be replaced with leeks and a fall planting of broccoli.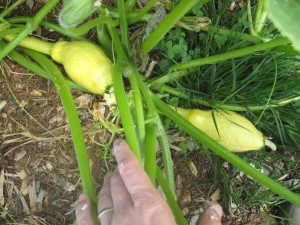 Look look look!!  There are about two dozen little Golden Hubbard winter squash that have set in the front yard!   The vines are attempting to migrate out into the street, and I have to turn the vines back toward the house every morning.  (Yes, I have paint all over my hands – I was painting trim (ugh) upstairs right before taking photos.)
The center of the backyard is really taking off – our family bed of potatoes is almost finished, and we'll be replacing it this fall with a few fruit trees.  The BCS potatoes  (planted a little later) are growing nicely, and volunteers have been mulching them every week with more straw.  The cold-stunted summer squash there are finally catching up –
Patti-pans, crooknecks, and zucchini are all setting fruit!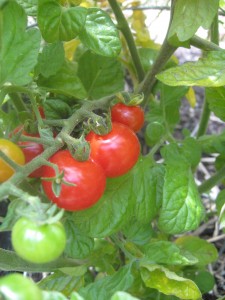 And, after much babying and coddling, and swaddling in plastic during our bitterly cold May, the tomatoes have decided to show their gratitude.  The plants are loaded with little green fruit, and a few cherries are already turning red!!
What exciting changes are taking place in your garden this summer?