When my girls were in preschool, one of their favorite outdoor activities was patrolling the school grounds with the class, hunting for "signs of spring".  Today, after yard chores were done (including snuggling with her favorite hen, Plucky (above)), my oldest and I hunted for signs of spring in the garden.  It was quite encouraging to see life return to a yard that is still mostly dormant and empty!
Can you name the plants we found waking up?
Let's start with an easy one – the first dessert ingredient of spring:
10 canes of these were planted a few weeks ago, to add to the 5 put in last summer – per lb, they're one of the highest value home crops: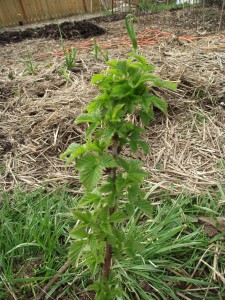 Twenty-odd of these beauties were planted last year.  Not harvest-able until at least next year, but then they'll feed folks for 20 more: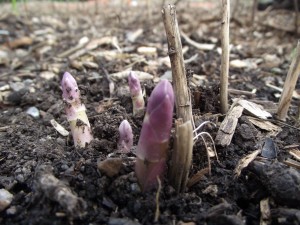 This one is a little more difficult – I grafted her last year, and she's still a teeny 18 inches tall, but will eventually reach 10 ft and yield delicious late-fall/winter harvests.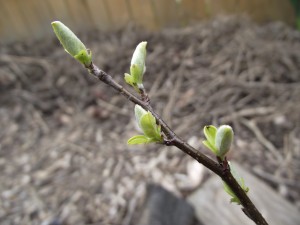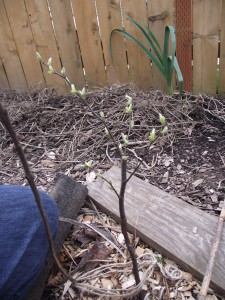 And last but not least, do you know what this is?  After rooting-up cuttings from some red, white and black ones, we now have a dozen of these fruit bushes growing.  At maturity, each can produce 15-30 lbs of vitamin C-rich fruit!
What edible perennials are waking up in your yard?  If it's still too chilly, which are you most looking forward to seeing come back to life?