Finished this easy project just in time for fall.  While it was simple and quick to knit (on 11s!), the actual herringbone stitch is a drudgery, and I was glad to wrap up the neck warmer and get it off the needles.
The overall look of the herringbone stitch is textural and fantastic, so once the memory of how tedious this project was has faded a bit, I'll be casting on a pair of these beauties.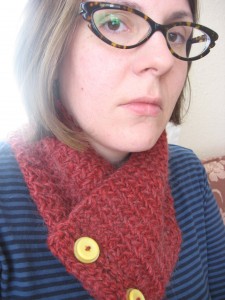 See?  Warm, functional and stays put.  This button cowl is definitely going to get a lot of wear as the weather cools off.
This destash yarn is Lamb's Pride Bulky mill-end purchased 4 or 5 years ago.  The color was called something like "Prairie Fire", and if I ever see it again at that price, I will be ordering more.  Love love love the pale mohair halo and the depth of color – bits of gold and brown blended with a rusty hue.   (Although it worked for me for this pattern, please keep in mind that Lamb's Pride can be a bit scratchy, and those with sensitive skin may not want to use it for something like a neck warmer.)
There is a portion of this skein leftover, and it may become part of another vest for George in the near future.  For now, it is back to working on this week's Yarn Along project.