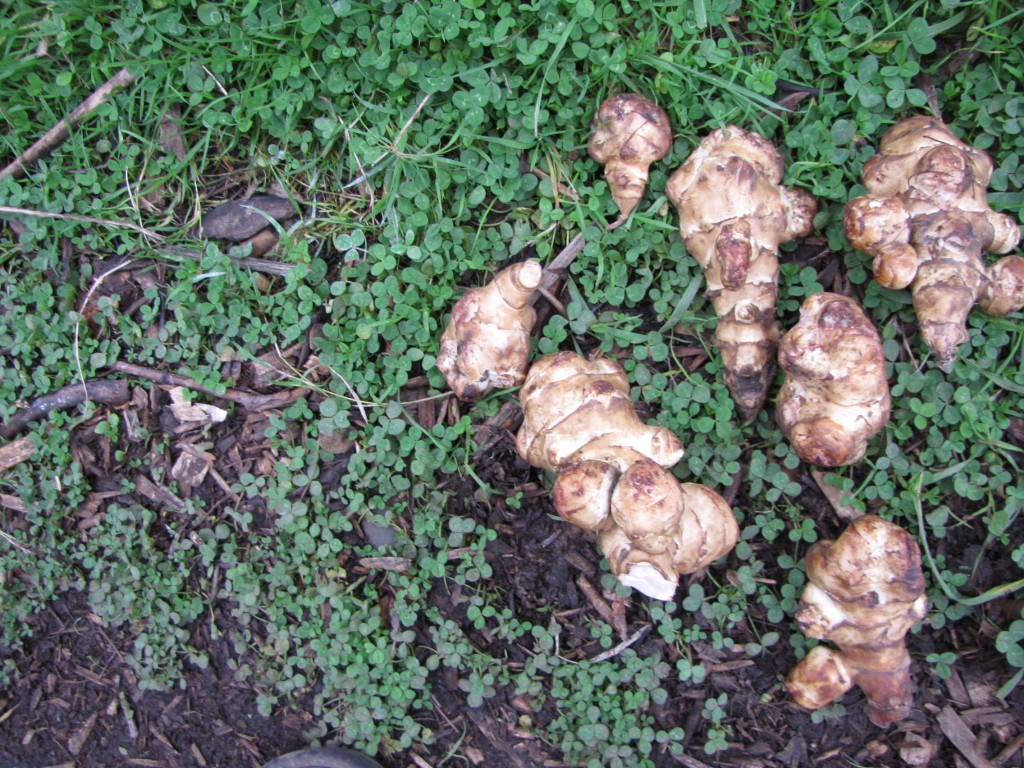 I have so many, many things to be grateful for this week.  Despite battling our first bad cold this autumn, we've made the most of the mild and relatively-dry weather during the first part of the week.  Most of the weekend and all of Monday was spent in the balmy outdoors getting filthy dirty and loving it.  Very glad to have had dry weather to tackle mucking out the coops, spreading countless wheelbarrows of mulch, dividing the dahlias, installing a cast-iron clawfoot bathtub duck pond (which came all the way from my grandparents' garden in Indiana).
We are finally making a place in the garden for Sunchokes (yay!).  Always wanted a patch of these perennial veggies, but once you've planted this North American native, you will forever have them (not unlike horseradish), so we waited to plant some until I was sure we had a permanent location for them.  They will overwinter nicely and come up and multiply for a harvest next year and many years following.
Ruth says they look like funny little root men, but is interested in trying some – I hope she enjoys their artichokey flavor when we start using them more in the kitchen.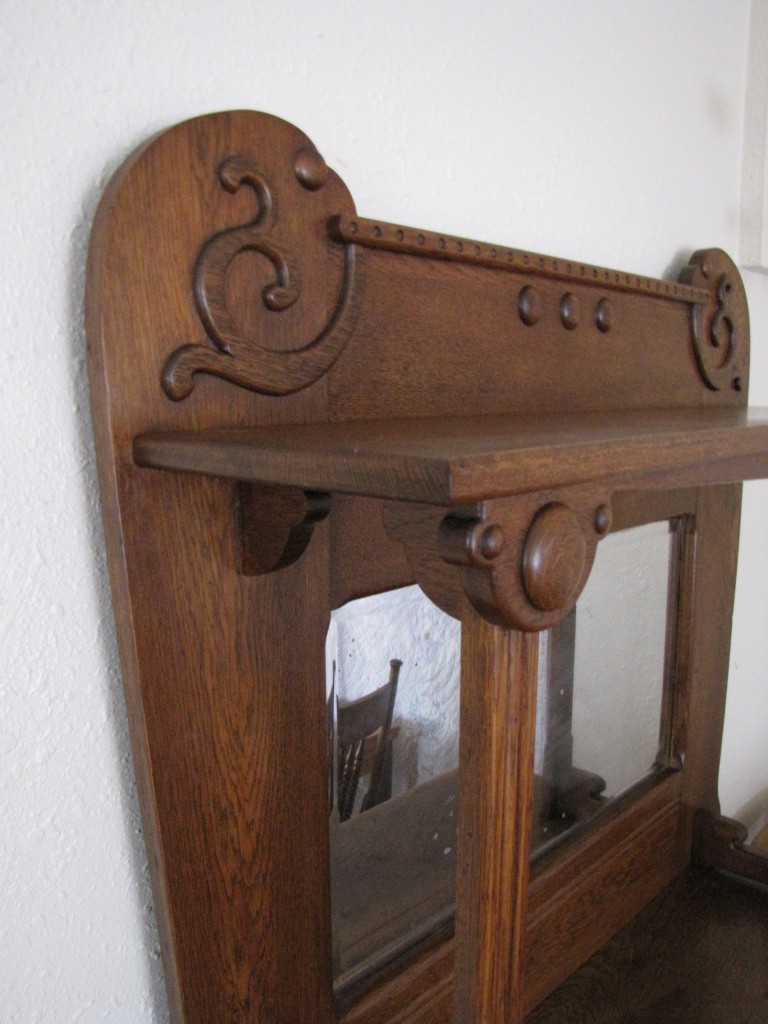 Along with the bathtub, several pieces of furniture I inherited from my mother's parents finally made their way from rural Indiana to Oregon.   I cannot express the profound gratitude I feel at being able to enjoy my grandmother's and great-grandmother's furniture, quilts, crockery, and china in our home, and use my grandfather's tools in the garden.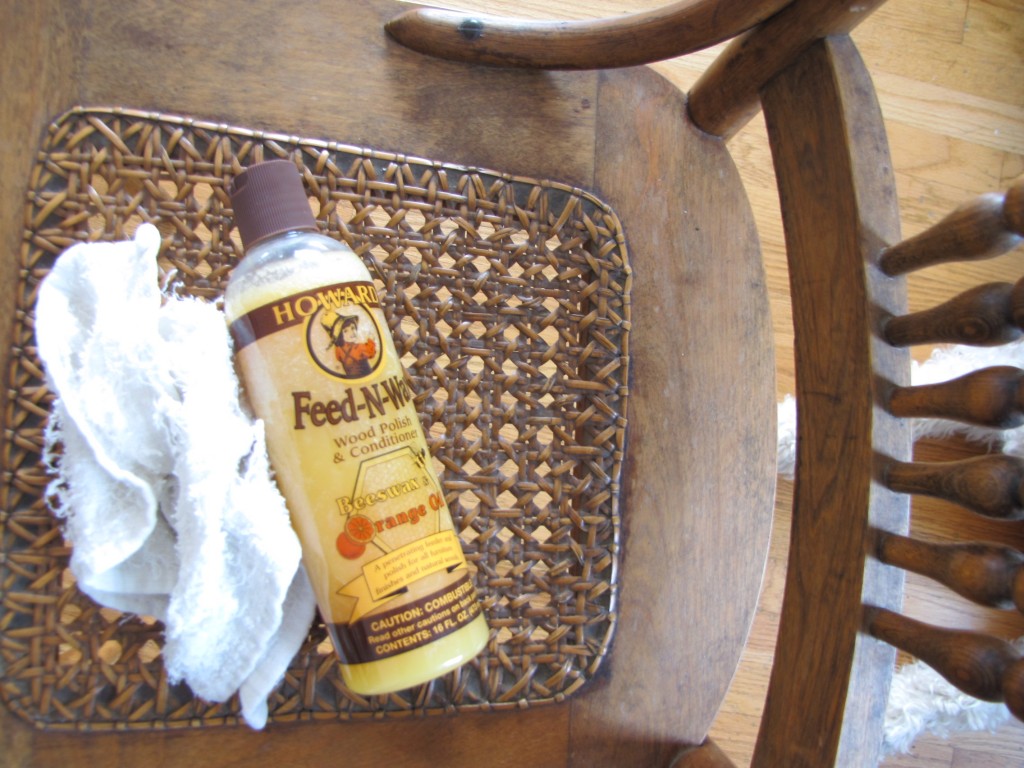 Each piece is being cleaned and restored before it is put to use.  It is a time-consuming process, mostly accomplished while George naps, or after all the kids are bed.  I am thoroughly enjoying it, though.  During the many hours scrubbing and waxing furniture, the aroma of beeswax and orange oil fills the house while I reflect on my loving grandparents, Harold and Imojean Conklin – on their lives and all of the lives they touched.
Having some of my grandparents' possessions in our home connects us to them and stirs up memories and stories to share with my children. Â It is a real honor to have these links with two dear people who meant so much to me.
Autumn has been gentle and beautiful thus far.  The fall leaves have had a chance to turn their vibrant colors before the rains knocked them down.  Dry, cool days have meant many afternoons  playing outside in this year's particularly handsome autumnal landscape.
I am grateful for the opportunity to spend so much time outdoors in the mild weather. Â We have collected a treasure trove of items for the nature table on our walks and in the garden: quince leaves (above) with bright yellow veining, chestnuts from the neighborhood schoolyard, maple leaves of brilliant orange from the neighbor across the street.
Some trying and relentless – albeit relatively small -struggles (rough mornings at lessons a few times, falling behind on housework, sibling disharmony) initially threatened to overshadow my week. It is good to sit down and reflect on all that I am blessed with, rest in the Source of those blessings, letting all the things that try to tear at me fall away, and be filled with gratitude.
Joining with Taryn of WoolyMossRoots, for her upcoming Sunday post, and with The Magic Onions' Nature Table.