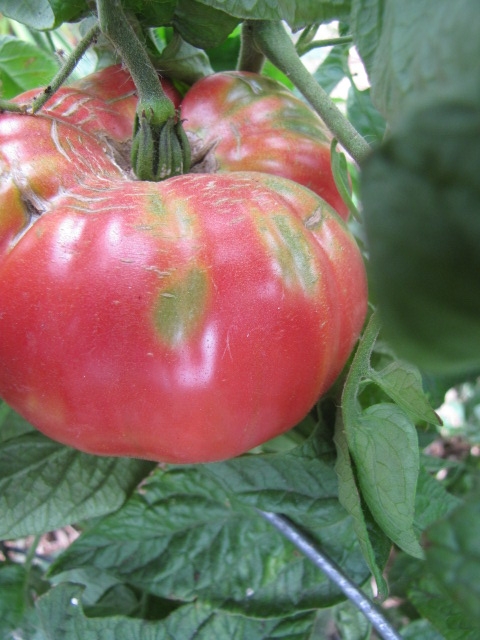 It has been three months since I last posted an update. Â Three months ago tomorrow, I broke my leg quite badly at derby practice, and have spent the summer recovering from two subsequent reconstructive surgeries.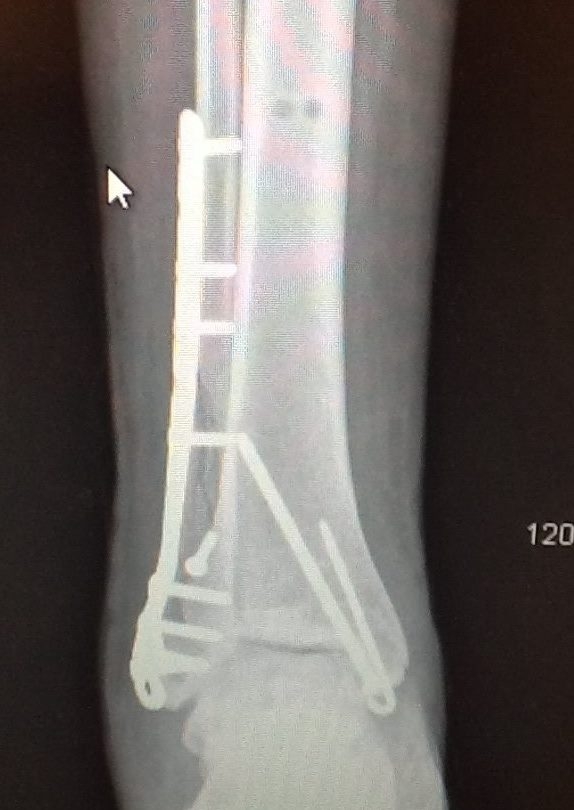 They tell me it takes a full year to be back (as close) to normal (as the ankle can get). Â In the last two weeks, I've finally been able to get out in the garden for a few hours each day. Â While I have some complications, and still have a brace and need to use one crutch, being back in the garden has done wonders for my recovery. Â It is such a gift to be able to get around outdoors – however slowly – and tend to the garden – however wild it has become. Â It is so so good to get back to any measure of garden work.
A quick glimpse at our morning in the garden: Â (Bea, our resident shutterbug, took all of these pictures, as I was ecstatically hobbling around the yard with a crutch in one hand and pruners in the other.):
The last of the plums were picked today. Â They are "Stanley" prune plums in the front yard. Â They are ready a full month after the other plums in the yard, so we have had fresh plums throughout the summer.
The Swiss Chard is a bit out of control in the front beds. Â I allow the brightest and most vigorous plants to bolt and then let them self-sow every year. Â The result has been bigger plants each year and deep bright pink or red stems in most of the plants.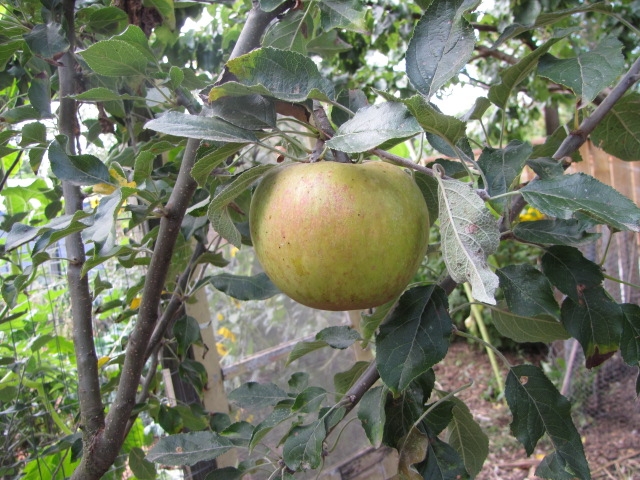 The Cox's Orange Pippin apples are beginning to blush a bit of red. Â I am anxious for them to ripen!
I can never resist snacking on Cape Gooseberries (Physalis peruviana, which are also known as Inca berries).  They always ripen at the very end of summer after most fruits have peaked.  The late ripening, plus their sweet-tart exotic flavor makes them worth growing, no matter how small the crop.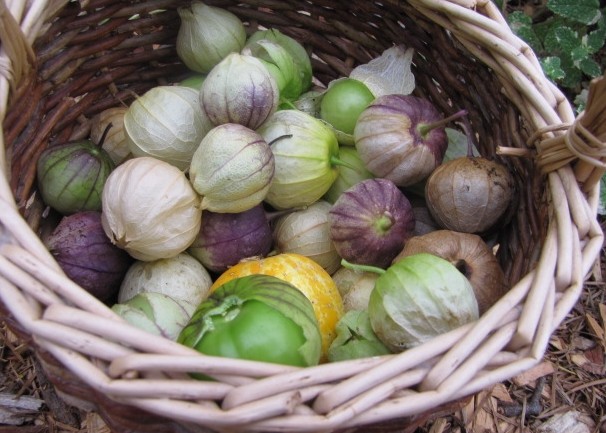 September also yields a flush of tomatillos. Â Much like green beans, the fruit loves to hide: Â you can pick a plant through, come back five minutes later and pick another full basket worth.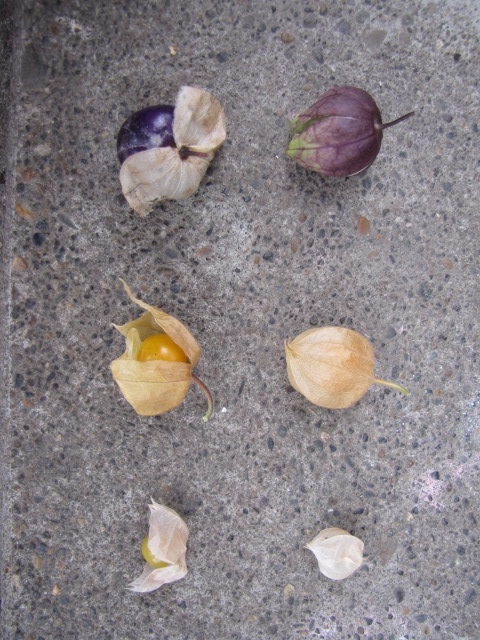 When placed together, it is easy to see that the tomatillo ("De Milpa" variety), Cape Gooseberry, and ground cherry all belong to the genus Physalis. Â Their papery husks keep the fruit clean, even when it falls from the plant at peak ripeness.
While I picked tomatillos, the older children made and elaborate game for George that involved gathering beans from the "Sadie's Horse Bean" and "Indian Runner" pole beans. Â it kept them occupied for a very, very long time.
A portion of this morning's harvest for Birch Community Services, which included ground cherries, "Violette de Bordeaux" figs, lavender, French Tarragon, "Delicata" squash, tomatoes, summer squash, plums, "Lacinato" (aka "Dinosaur") kale, Lemon cucumbers, chard, sage, rosemary, and tomatillos.
More soon as the garden winds down for the year, and life slowly returns to a familiar rhythm for our family.
Blessings on your week.