Joining Ginny's Yarn Along today with some sunny yellow sock knitting. Â In the short, grey days of January, I often find myself picking bright, cheery yarn with which to knit. Â It adds a little sunshine to the day.
The yarn is my old standby – Brown Sheep Lamb's Pride Worsted mill end seconds – an 85% wool, 15% mohair yarn which is very durable and felts nicely while you wear it – making it ideal for socks and mittens and soakers.   The colorway is Prairie Goldenrod, and I bought several skeins a while back because I knew it would be good for many kinds of projects.
The kids and I have enjoyed thumbing through this book together. Â We missed our annual October camping trip because I was still recovering from my broken ankle and not able to hike. Â We are contemplating a spring camping/backpacking trip, so camping books keep coming home with us from the library.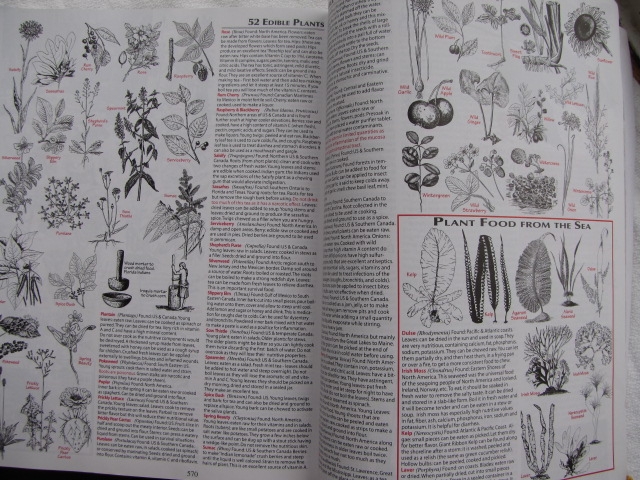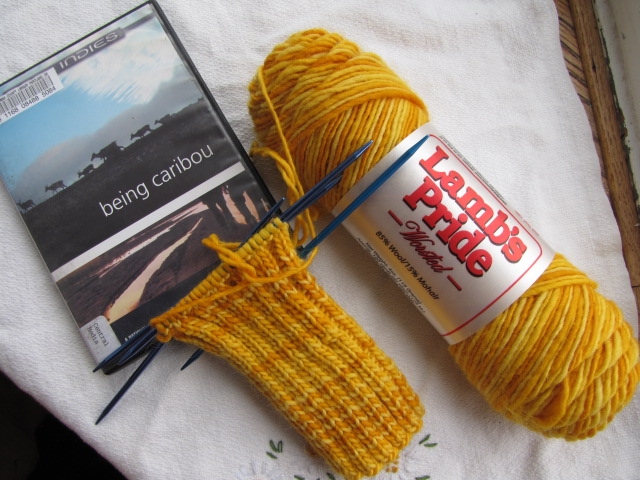 While I work on the socks (an easy pattern on size 5's for thick, warm socks), and the kids built with Legos, we watched this documentary on caribou. Â The kids and I have been on a bit of an Alaska/Yukon kick for a while, and we'd love to take a family trip there someday. Â I backpacked around Alaska when I was 16, but no one else in the family has been, and I'd love to show them the Tongass rainforest, the Mendenhall Glacier and climb Mt. Marathon again. Â But most of all, I'd like go birdwatching and salmon fishing with the kids. Â Maybe someday, but for now we enjoy reading books and watching documentaries on the subject and are content.
More soon, including late-winter gardening (Yes, there IS gardening to be done in January!).