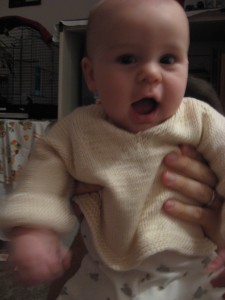 I knitted this sweater while pregnant with Tum Tum.  It's size 12 months, and runs true to size, but today he tried it on and it fits him well, since he's a hulk of a baby!
The pattern is from this book.  It's her knit-in-one-piece-type baby sweater, which is supposed to have a ribbon tie in the back,  but my boy is actually wearing it backwards as a v-neck.  I think it looks pretty cute that way, don't you?  The things I'd change next time – make the sweater a few rows longer, since Tum Tum has a long torso, and I'd make the sleeves a bit shorter, since I had to cuff them twice.
The yarn is an organic unbleached cotton from France that I purchased at an estate sale.  It is soft, buttery, and wonderful to work with – more stretchy and forgiving than a lot of cottons I've used previously. I spent $1 and got enough yarn for maybe two baby sweaters plus booties.
I have two other FOs waiting to be posted – including the yellow project from last weekend.  I hope to get to them up soon – it's just difficult to get a decent photo of a very squirmy 5-month old in his new gear!