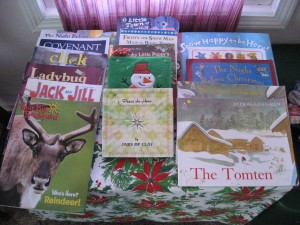 Our nature table takes a little respite during the Christmas season.  First, it is our book table, and then, our Christmas tree's home (the books transition to a basket on the floor underneath).  The nature table will reappear in late winter. 
Many of the girls' Christmas books are at Grandma and Grandpa's house in Florida, where we will spend Christmas.  At our home, along with some library books, the December issues of their favorite magazines, and our books of Advent readings, are a few books that I believe are many families' Christmas favorites.
I loved these books so much as a child that Firecracker was almost named Astrid.  I love how they convey a sense of quiet hibernation that we experience in the winter.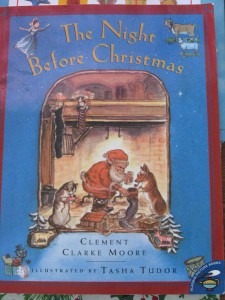 I think most people can't help but love Tasha Tudor's illustrations.   When I was a little girl, I would really look forward to my mom reading A Doll's Christmas, also by Tasha Tudor, and now she reads it to my girls.  The last few years, we have also kicked off the Christmas season by checking out the video, Take Peace: A Tasha Tudor  Christmas, from the library.   
What books do you enjoy at Christmastime?