This is an easy holiday candy that preschoolers/primary-aged children can make with only a little supervision.  The entire project (minus chilling time) takes about 15 minutes.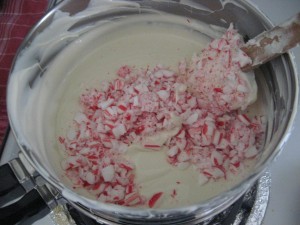 You will need: 2 lbs white chocolate, chopped, or 2 lbs white chocolate melting chips,
about 10 candy canes, crushed (to equal one cup) (my girls put the candy canes in a large bowl, and went to town with a potato masher),
a double boiler and a jelly roll pan lined in parchment or waxed paper.
Melt the white chocolate in the double boiler (we added half, let it mostly melt, then added the other half – it was much easier for the girls to stir this way)
When chocolate is completely melted, stir in the crushed candy canes until thoroughly combined.  Immediately pour onto your jelly roll pan, smooth into an even layer, and place in the fridge to chill (about an hour).  Then, carefully snap into pieces and enjoy!