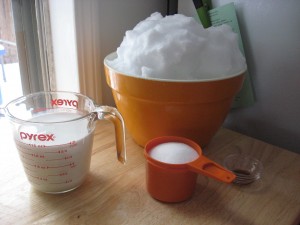 We had a beautiful, fluffy snowfall Christmas Eve morning.  My friend Joanne suggested we make some Snow Ice Cream.  So, the girls and I collected a huge bowl of clean, fresh snow, and set to it! 
Snow Ice Cream
You will need:
1 gallon fresh, fluffy snow, give or take.
2 cups whole milk or 1 cup whole milk + 1 cup eggnog (or for vegans, 2 cups hazelnut or almond milk would be tasty, don't you think?)
1 tsp pure vanilla extract
1 scant cup granulated sugar
In a very large bowl, combine the milk, sugar and vanilla.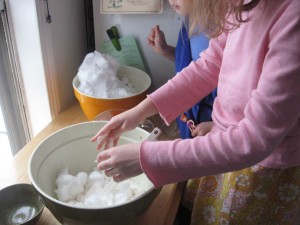 Add in handfuls of snow until the mixture comes together.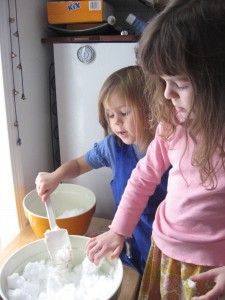 Keep stirring, it takes a while!
Firecracker declares it, "Martha Stewart good!"
Enjoy!