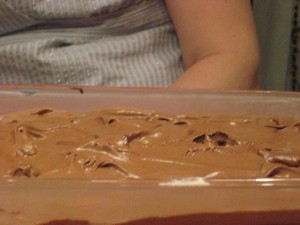 My apologies for the lack of any decent pictures.  This is my sister's birthday cake, my mom's recipe.  It is the best chocolate cake EVER.  It makes a very dark, rich, moist cake, and is perfect with Mocha Frosting.
Larksong's Mother's Mayo Cake
1 C sugar
1 C mayo (Please, not Miracle Whip.  Ugh.)
1/2 C Dutch process cocoa
2 C unbleached flour
2 tsp baking soda dissolved in 1C hot water
2 tsp vanilla
Preheat oven to 300 F.  Butter and flour a 9 x 13 inch pan.  Mix first three ingredients.  Alternately, add flour and soda water.  Then add vanilla, stirring briefly until combined.  Bake for 45 min. (Don't overcook, or it will dry out!  Just until the edges of the cake pull away from the pan.)
Let cool completely, and frost with Mocha Frosting (see below.)
Mocha Frosting (From The Joy of Cooking)
Sift together:
1 2/3 cups powdered sugar
2 tbsp Dutch process cocoa
Beat in mixer until fluffy:
1/2 cup unsalted butter
Then, add in the sugar +cocoa until creamy and whippy.  To this, add 1/8 tsp salt and 3 Tbsp very strong coffee or espresso.  Beat for 2 min.  Then, beat in 1 tsp pure vanilla or 1 tsp rum.  Let stand 5 min.  Beat again briefly, and spread on cooled cake.  Enjoy!
I promise some decent posts the next few days – we've been doing some fun homeschooling stuff, had a great trip down the street to the beach, and Little Hen has been taking pictures with her new digital camera.  It's so hard to be motivated to blog while on vacation, but I will make some time tonight after the kids are in bed.  Hope you have a relaxing day!