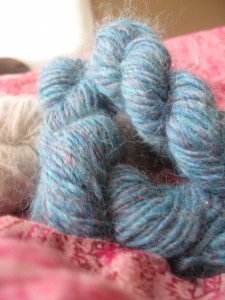 With the cooler weather of the last few days, we've found life has slowed down a bit, and we've been hanging around the house more and more.  The girls have been playing more quiet games,  and we've all been reading through our latest haul from the library.   I've gotten a chance to finish spinning some merino/mohair roving bought at a spin-in ages ago.  The twist has been set (which really brought out the loft in the yarn – it's so fluffy!), and these singles are ready to knit.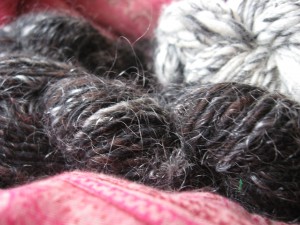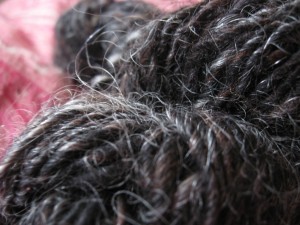 Also off the another spindle are the last few ounces of 85 wool/15 mohair Brown Sheep mill end roving (1 lb total takes a while on drop spindle, so I've been doing it in batches).  The final product is a dk weight – some careful dividing of the roving resulted in hanks that are in strikingly different shades of white/brown/grey/black.
Now, to get knitting with them…
If you have any recent spinning, please share the link with me – I'd love to see what you're working on.  Thanks!
(Don't forget to stop by my giveaway post, and leave a comment, too!)