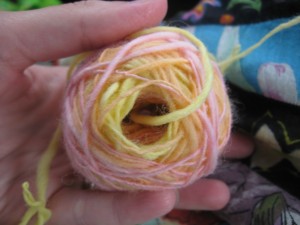 I have always wanted to dye my own roving (mostly because of the Twisted Sisters Sock Book!!), but wanted it to be something the children and I could do together – something safe, easy, and non-toxic.  So, when I was pregnant with my son, the girls and I dyed 2 lbs of white Brown Sheep mill end roving (super economical!) with Easter egg dye bought at 75% off after Easter.    The needed ingredients are food-safe dye, vinegar and water.
We followed this Kathryn Ivy tutorial, using spray bottles, brushes  and spoons to experiment with different patterns of adding the dye to the roving.   We worked outside, putting down lots of newpaper,  so we could make a huge mess, and have fun.  The girls had a blast squirting different patterns into the white roving, and were surprised at seeing the final results after it the roving was steamed, rinsed, and hung to dry.
It takes a LOT of  very concentrated dye to get the vibrant colors in the tutorial, and mine came out very pastel (as you can see).   It spun up nicely (you can tell this is some early spinning, however – it's pretty uneven), but after we set the twist (just singles), the hanks have just been hanging out in my yarn dresser, because I haven't been much in the mood for pastels.  With the wave of friends/family having babies the last several months, now is a perfect time to crack into that oh-so-pastel yarn!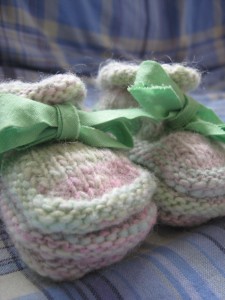 So far, I'm really enjoying knitting with it, and when it's all used up, I think we'll try it again, but with more concentrated dye for more vibrant colors.  Who knows, maybe Little Hen will be old enough to spin some up herself by then.  🙂
If you've tried your hand at home-dying fiber, I'd love to hear about it and any advice you can offer.  If you've posted about it on your blog, I'd love to share the link.  Thanks!
(Only 3 days left to enter the giveaway!!)