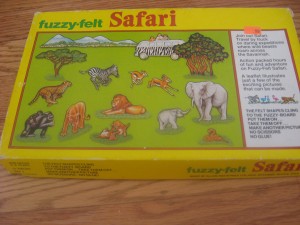 We're studying Africa off and on lately, primarily because the girls' interest in the continent was sparked by their favorite musician's recent work in Malawi.  I picked up this felt Africa playset at the thrift store on sale for a quarter, and it was a big hit.   Along with Dana's music, we've been listening to some African music while the girls played with the felt set and throughout the week  – Acoustic Africa, Ladysmith's Long Walk to Freedom, and the girls' favorite Gift of the Tortoise.
The girls decided they would take turns setting out pieces for the other sister, who would then have to arrange the pieces and tell a story.  I think it was a great idea!  That way, they both had a chance to be to be the storyteller.
(Please excuse my pajama-knee in the shot.  Yes, I was still wearing my PJs after lunch.  It was Tuesday, which is technically PJ day at our house, although the girls decided to get dressed anyway.)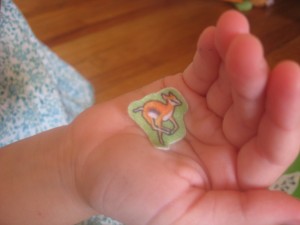 Firecracker's favorite was this baby antelope, by the way.  She wanted to be sure it was included in this post.  🙂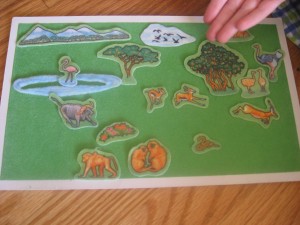 We've been watching The Life of Mammals bit by bit, a few afternoons a week, to supplement the study of Africa's wildlife.  I highly recommend it.  Although it covers mammals from all over the planet, the girls have gotten a lot out of it, and we've stopped to focus on, and discuss the mammals of Africa as they are presented.
For children's books on Africa – here are a few we recommend  –
The Field Guide to Safari Animals
Bringing the Rain to Kapiti Plain (on of my childhood favorites)
Why Mosquitos Buzz in People's Ears
After we finish The Life of Mammals, if the girls are still interested, we may watch Michael Palin's Sahara.  Who knows, maybe that will be a doorway into ancient Egypt – a topic they have yet to discover – or perhaps deserts in general, which could cover Antartica, the Sonoran, Death Valley, Siberia, Australia as well.
Or perhaps we'll stay where we are, taking in some more of Africa.  I love that we can just marinate in a subject for weeks if we want, learning all we can discover!  For now, we'll continue to explore the richness of Africa's peoples, culture and wildlife (and of course, several other subjects on the side!)!