Like most children their age, the girls are prolific artists (esp. Little Hen, who loves her water colors).  Our living room was looking pretty bare, and despite amassing a  substantial collection of their artwork, it's just not in the budget to get anything professionally framed right now.  Why should that prevent us from displaying their art?  So, we strung up a line, hunted down some scrapbook paper on clearance at the craft store, and a little glue and a few clothespins later…the walls aren't quite so empty.
Some of my favorites -Â  The Lady with Grey Hair by Little Hen , who loves to paint people, and Untitled by Firecracker, who takes a sweeping, abstract approach.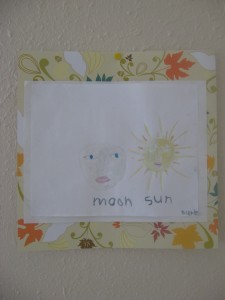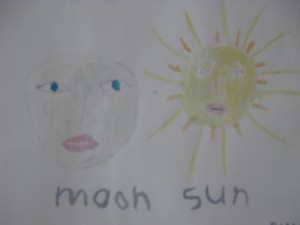 This one – Moon and Sun in the Corner – is  Little Hen's favorite.
I plan on scouring the thrift stores the next few weeks for some frames I can paint or decoupage to match, and then we'll get the girls' work framed and properly displayed.  But for now, we can fill an empty wall, enjoy their creations and stay in the budget.
The last two days, I find I've been setting up my spinning so I can look at their paintings while I work – it still amazes me what is working inside their heads and hearts that they can make such beautiful art at such a tender age.   I don't get ever tired of looking at them, and look forward to what they'll create next.