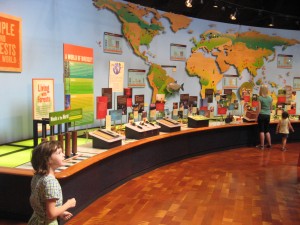 Over the weekend, we took advantage of the Smithsonian's annual free pass day to visit the World Forestry Center, located right across from the Oregon Zoo.  The building is light and open, and the exhibits are well designed, educational, and attractive to children.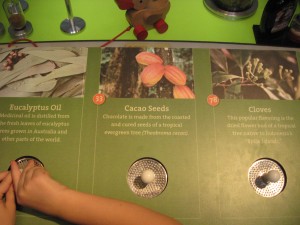 There were displays appealing to many senses – here Firecracker is smelling the oils from different culinary trees and trying to guess their origin.   Euclayptus had her stumped – she said it smelled like "Burt's Bees something…but that's not quite right."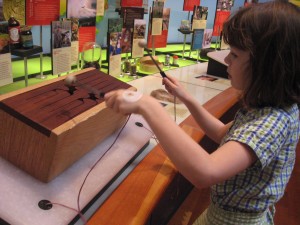 Little Hen played the tongue drums for a LONG time – and has been reminding me daily how "if we ever find any tongue drums on Craigslist, maybe we could get them."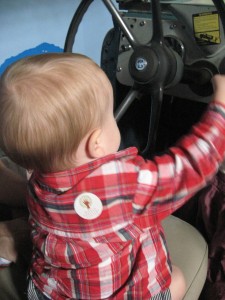 Of course, all Tum Tum cared about was the MACHINES!  That boy signed "more car" and made engine revving sounds all morning.  "Driving" the timberjack and the jeep totally made his day.
Little Hen spins a Tibetan prayer wheel.
Hope you get a chance to visit the World Forestry center – for my kids, it was a chance to try their hand at some really fun virtual experiences – like parachuting as a smoke jumper, running a timberjack, river rafting and riding a jeep in Africa.  But, it was also a chance to learn more about good stewardship of our resources, the importance of conserving forests, and the blessing that their products are to us and to people all over the world, and the value in renewing those forests for future generations.  A very nice little museum -I'm glad we got a chance to visit.