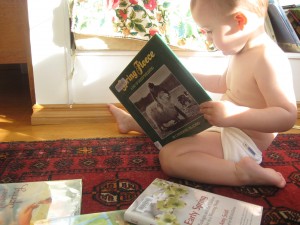 The girls are listening to Daddy read The Mousehunter at bedtime, but our daytime book selection reflects the unusually sunny, warm weather that has us all thinking of anything except the tail-end of winter.
We just finished listening to Animal, Vegetable, Miracle (Which is why we're starting an asparagus bed -  Little Hen was fascinated by the chapter on asparagus – as read by Barbara Kingsolver's daughter), interspersed with a complementary collection of Appalachian music.  Indulging a totally separate branch of the girls' current interests, we had worked our way through a stack of books on Norse mythology and ancient Egypt.  So, it was time to order some new items.  In the afternoons, when we've needed a break from gardening, we've been scrolling through the library's website, ordering books, books on CD, and music CDs that appeal to us.
When we went to pick up the books, it was clear that a definite theme must have been running through our collective subconscious while we were ordering:
SPRING!!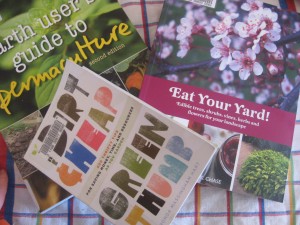 This afternoon, while the rain comes down outside, we'll be reading the chapters on winter and spring from Our Farm, a book about 5 siblings' experience of a year on their family's farm.
What books are seeing you through the end of winter, as we edge toward spring?