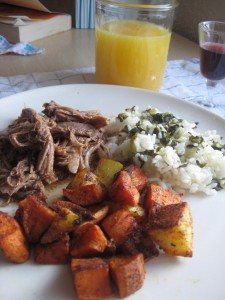 Little Hen and I made this recipe for spiced pulled-pork (from Sunset Magazine) for dinner two nights ago.  I have yet to find a Sunset recipe that is a dud – there are always keepers in ever issue -but this one was a cut above.  Oh my goodness, the allspice and thyme combined with the apple-cider vinegar, and tender (yet economical) slow-cooked pork – it was beyond delicious!!
Here is Sunset's original recipe (I'll post my slight alterations at the end) :
Sunset Magazine's Spiced Pulled-Pork
Yield: Makes 8 to 10 sandwiches
1 1/2  pounds  boned pork shoulder or butt, fat trimmed
4  ounces  green onions, rinsed, ends trimmed, and coarsely chopped
2Â  cloves garlic, peeled
2Â  fresh Fresno or other hot green chilies (about 1 oz. total), rinsed, stemmed, and seeded
2  tablespoons  tomato paste
2  tablespoons  brown sugar
2  teaspoons  ground allspice
1  teaspoon  ground dried thyme
About 1 teaspoon salt
About 1/2 teaspoon pepper
1/4  cup  cider vinegar
8Â  to 10 soft dinner rolls (about 1 oz. each), sliced in half horizontally
Preparation
1. Rinse pork and pat dry.
2. In a blender or food processor, whirl green onions, garlic, chilies, tomato paste, brown sugar, allspice, thyme, 1 teaspoon salt, and 1/2 teaspoon pepper until finely chopped. Add vinegar and whirl until smooth. Scrape mixture into a heavy 5- to 6-quart pan. Add pork and turn to coat completely. Cover and chill at least 2 hours or up to 1 day.
3. Add 1 cup water to pan, cover, and bring to a simmer over medium-high heat; reduce heat to very low and simmer pork, turning once, until meat is very tender when pierced and shreds easily with a fork, 2 to 2 1/2 hours.
4. Remove from heat and let cool about 15 minutes. Transfer meat to a bowl. Skim and discard fat from surface of cooking liquid. Measure liquid; if there's more than 1 1/2 cups, boil over high heat until reduced to 1 1/2 cups. With a fork or your fingers, pull meat into thin shreds; remove and discard fat. Mix meat with cooking liquid. Add more salt and pepper to taste.
5. Spoon about 1/4 cup pulled pork onto each roll bottom; set tops in place.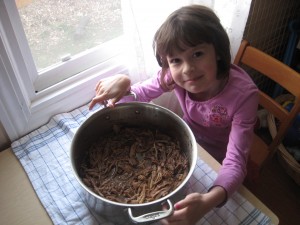 We made a quadruple recipe (since I happened to have a 5-ish lb. pork shoulder in the fridge).  This way, I could serve pulled-pork with spinach rice and a side of roasted sweet potatoes (in cumin, paprika, coriander, garlic, and a titch of cayenne) the first night, and pulled-pork sandwiches (on homemade buns) with a side salad and some homemade pear sauce later in the week.  There were also two dinner-sized bags to pop into the freezer.
If you're going to make a quadruple batch, and also planning on feeding this dish to children (who, by the way, love shredding the pork, it's great, messy fun!), here are some changes I recommend:
1)Quadruple everything in the recipe, except the hot chilis – keep this the same, so it's not too spicy for little ones (our pork had a teensy kick to it, but even Tum Tum ate three helpings with no complaints.) and also do not quadruple the water – instead use 2 1/2 – 3 cups.
2)Definitely let the larger cut of meat sit in the rub overnight or even 2 days in the fridge.
3)Increase cooking time to about 4 hours, using a meat thermometer to check that the middle of the roast has reached a safe temperature – that's 160F.
If you're looking for a hearty, easy, delicious late-winter meal, I highly recommend this recipe.
Up next for comfort food (if I can get my hands one some local lamb that doesn't bust the budget) (thanks for tipping me off to this yummy looking recipe, Chris!) – Honey-Rosemary Lamb Sandwich.
PS- Have you seen Sunset's blog, One Block Diet?  I have been reading it lately, and getting some inspiration for our own garden project.