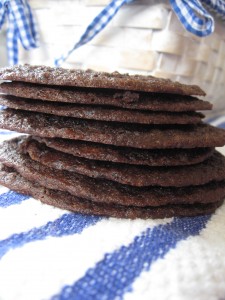 Well, one upside of all the cool rainy weather is that it's prolonged the "baking season."  It has yet to be so hot that I can't justify running the oven.  🙂
Firecracker and I tried out a new recipe and whipped up some cookies for the neighbors – Martha's Chocolate Malt cookies.   We're working our way through Martha's Cookies book (we've made 9 of them, and have loved every recipe so far!).  We decided to leave out the filling (no cream cheese or chocolate on hand – oops!), and just make the cookies.
The dough was a little sticky, and the cookies baked up thinner than the pictures in the book, so I'm glad I didn't make any filling – they were just too delicate.
(Please excuse the scorched Silpat – the result of trying a Martha recipe for tofu-fries, which required putting the Silpat under the broiler – I found out later that a Silpat should not be heated above 450F – a lesson not to trust every Martha recipe, I guess…
Anyway, the cookies were still really tasty – I love the addition of the malt flavoring – reminds me of the chocolate malts my mom would make me on hot summer days in Tucson.  If we ever get any hot weather here, I'll have to make some for the girls.  🙂
What have you been doing to make the best of the perpetual March weather?
Is anyone as excited as I am about tomorrow's forecast of 80 and sunny??  YAY!!