Now that we've started our homeschooling year, we have again begun our Thursday ritual of serving afternoon tea and snacks in the breakfast nook.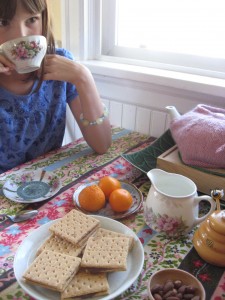 Sometimes I bake something fancy, like a linzer torte, or banana whoopie pies or gingerbread with whipped cream, but this time, since we're just getting back in the swing of things, I kept it simple.  Bea made graham cracker and Nutella sandwiches, and we put out tangerines and a bowl of tamari almonds and called it good.
We've been doing this since Ruth was  preschooler, and the kids really enjoy the ritual.  We pretend like we're practicing our best manners, but its a time of silliness, faux British accents and lots of giggling.  It is also a time we can sit down and reconnect during the busy week.
Summer and all its freedoms are such a blessing, but it is good to slowly be returning to the rhythms of  fall.