We're trying to make the most of the absolutely stunning late September weather, spending as much time as possible in the waning garden.
Picking and washing Concord grapes before dinner.  As we wash them, their aroma reminds me of my grandfather and his beautiful grape arbor.
The girls grew their own patch of runner beans (on a teepee), with the goal of making a pot of bean and ham soup with them.  We've let them dry on the vine, and now they're ready to pick and store in jars until the time is right to make that pot of soup.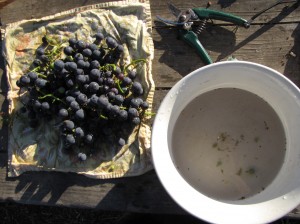 The grapes paired perfectly with our salmon and rice dinner.  Their intense flavor is a strong reminder of how blessed we are to be able to grow and enjoy truly special food that so nourishes our bodies and spirits.