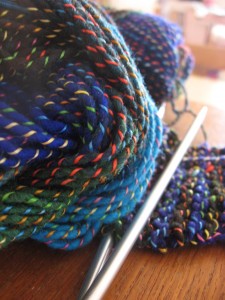 Last week's Yarn Along project is finished, so it's on to something new for this week's reading and knitting link-up with Ginny.
Most of my knitting gets done in the early morning, or after lunch while the kids are doing their read-aloud.  I'm between novels, and have enjoyed thumbing through craft books first thing in the morning, before the coffee has kicked in.
During read-aloud this week, Ruth has been reading to us from one of our favorites, Sir Gawain and the Loathly Lady.  The kids have a renewed interest in Arthurian Legend, and we're going to be starting The Dark is Rising series for our family chapter books. (It happens to be my absolute favorite series from when I was around Ruth's age, and I'm excited to share it with my children.)
Bea is reading from level 2 Readers now, with some help.  She is working hard every single day, and we're quite proud of her dedication to improving her reading skills.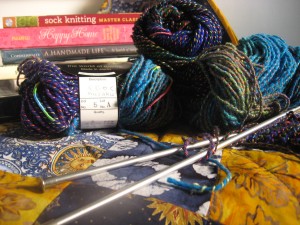 Once again, I am finally casting on another easy project that has been in my Ravelry queue forever – the Baktus scarf.  After reading through the comments/advice of other knitters who have made this, I've decided to do the increases at the end of the row, instead of the beginning, since it is supposed to make the stranding of two colors a bit easier.  So far, so good.
The yarn is a few balls of garage-sale-find Noro I originally bought to make a larger shawl.   There is just enough left for this project.  It will be a belated birthday gift for my mother.
Looking forward to reading up on the other knitting projects in the link-up after the kiddos are in bed tonight…