Finished this vest for George, who is almost 15 months.  Just in time, too, as it is chilly today, and we are trying hold off switchng on the heat at night as long as possible.
I'm very happy with how it turned out, especially the nubbly, homespun texture of the yarn, and the long-fit for my long boy.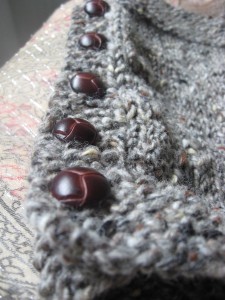 I used some thrift-store buttons, and the boys had great fun dumping over my button jars and making a big mess of buttons on the driveway while I finished making up the vest in the sunshine.
I followed Thrifty Knitter's simple pattern, but used Soule Mama's advice and knit it on size 9s with heavy worsted to fit a toddler.  And fit it does – just perfectly.
Loved this pattern so much, I already have another CO in oatmeal Lamb's Pride.
More farm work to share here tomorrow.  Have a blessed weekend.