The past two mornings, the kids and I have worked on harvesting the end-of-summer lavender, which we will use for winter craft projects.  (More on that next time).
The lavender plants are all in the front yard, which is unfenced, and we are along a bus line.  Keeping a busy toddler safe and occupied while we work on front yard projects is a must.
George was kept very happy by his big sisters, who were dead-heading dahlias for me, and bringing him the spent blossoms to play with.   He had such a grand time shredding the flowers, flinging petals in the air and giggling to himself.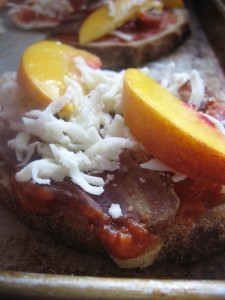 After harvesting lavender for quite a while, it was time for lunch.  The older three children take turns being my lunch helper on different days of the week.  This gives me a chance to get some one-on-one time with each of them and teach them culinary skills safely.  This lunch couldn't have been easier, and it was a hit with all four kids.   Here's what we made:
Bea's Bacon-Peach "Pizza"
Preheat oven to 400 F.
For each person, you will need:
4 slices cooked bacon (leftover is fine)
4 slices of fresh peach
2 slices stale rustic bread (we had leftover levain)
a few tablespoons of pizza sauce
mozzarella,and Parmesan
fresh basil leaves (optional)
Directions:  Place sliced bread on a jelly roll pan.  Spread sauce, add 2 slices of bacon per piece of bread, top with cheese, then 2 peach slices, then more cheese.  Garnish with basil leaves if desired (kids prefer to leave it off).
Bake at 400F for 8 min.  Place under broiler for another 1-2 min or until cheese is caramelized and bubbly.
Serve with salad and a fruit smoothie.  Viola!  Lunch!  And happy kids!
Who needs toys when you can shred and fling and mash and revel in blossoms?
While some moments are rough, and we've had our stresses and hiccups the past few weeks, we are doing our best to be intentional with each other in our homeschooling, our living and being together, and in celebrating the last breath of summer before the return of Oregon's inevitable grey, rainy autumn.
We love the snuggly, wooly, apple-cidery things that will come with the coming chilly weather, but for this week, we're holding on to the blossoms, the lavender bottles, the juicy fresh peaches, the playing outdoors together while we can.