Up before the big kids, trying to get our lessons organized for the rest of the week.  Obligatory coffee and knitting with a side of peanut butter toast help get me through the early morning planning.
I'm currently working on yet another quick, easy piece.  It's Amanda's larger version of this vest for George.  George has a long torso, and the scaled-up pattern is quite long, so no need to add extra rows.  If I knit another for a gift, I would probably take out 4 rows in the stockinette section.
I have a self-imposed ban on buying new yarn until the "stash dresser" is depleted, so this is two balls of tweedy goodness my brother got me in Ireland years ago.  I could never find the right project for it before, but it is just enough for a toddler-sized vest, and the color (grey with white, black and brown flecks) is perfect for fall.
This semester I am teaching an Intro to Anatomy class for kids 9-12, which is based on a book I loved as a child, Blood and Guts: A Working Guide to Your Insides, by Linda Allison.  Our first class this coming Friday will cover The Scientific Method and basic cell structure, and this morning was a good time to review upcoming the activities for the first few weeks.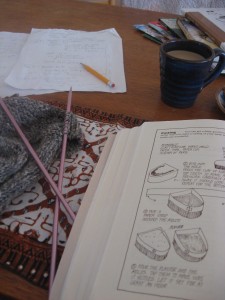 Linking up to Ginny's Yarn Along for this post.  Always good to see what other folks are knitting and reading and draw inspiration from both.