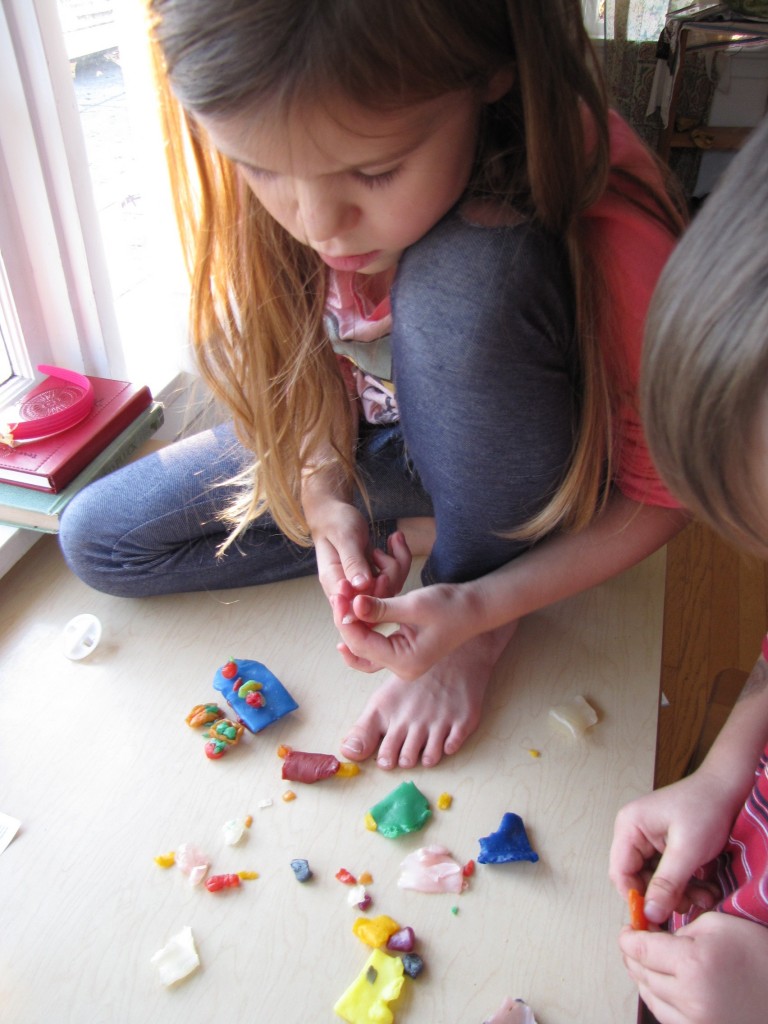 Late afternoon -that time in the hour before dinner, the hour before Daddy gets home – is so often a strain on family harmony.  We're all hungry, low on energy, short on tempers.  I struggle to find ways to keep the children occupied, finish dinner, and keep squabbling to a minimum. (I remember Grace relating a similar frustration at that time of day, and feeling relieved that I wasn't the only mom on the verge of pulling her hair out and yelling at the the top of her lungs come 4:30 or 5.)
When the children aren't out playing with the neighbor boys until dinner, I try to rotate through special handwork activities they all can enjoy.  Modeling beeswax is a favorite reserved for the most trying afternoons.  After a whole day of sibling disharmony, we all have to reconnect, so while the split-pea stew simmers and bread bakes, I sat down to join them.
This was the first time George had used modeling beeswax.  It took a while to convince him that this yummy-smelling stuff was not, in fact, a snack, but he eventually figured it out.
(The green out the window is the swath of cover crops now fully established.  The only food going up front right now is volunteer chard and Tuscan kale.)
As the last rays of sun came through our front window, we had an opportunity to chat about the day, anticipate delectable Thanksgiving dishes, and sculpt together.  Finally, sisters are laughing together instead of grouching at each other, and little brothers are encouraged instead of teased.  This time was just what we needed to get back to our proper selves and work (play!) as a family.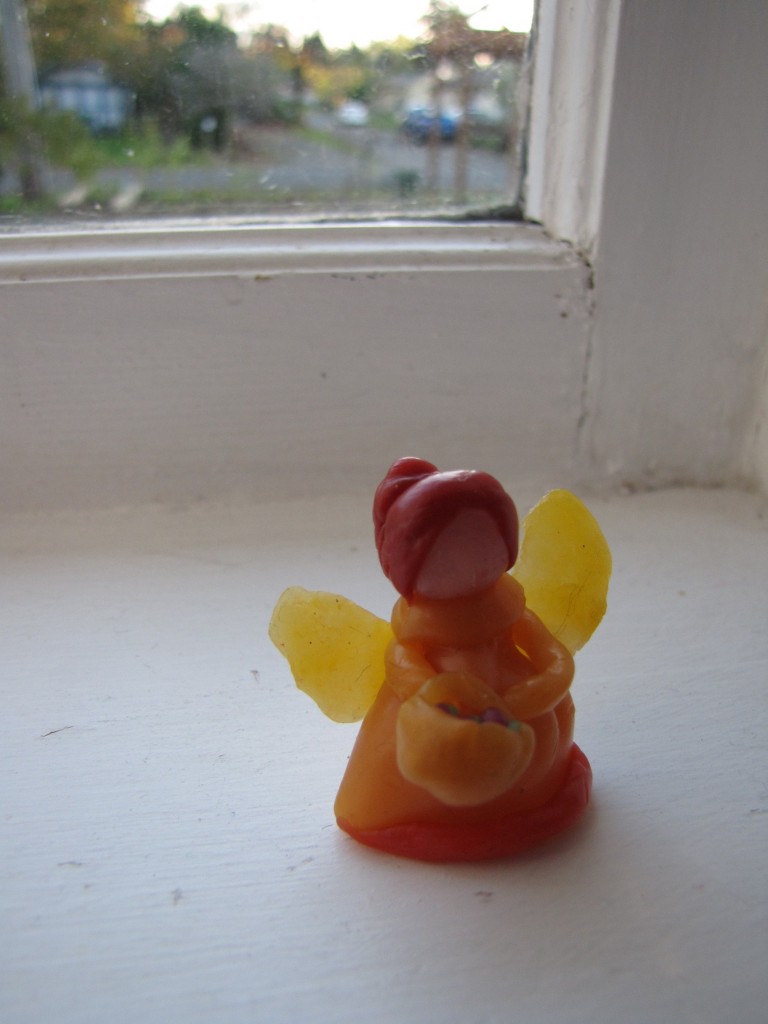 Modeling beeswax one of the kids' favorite media (especially for Ruth, who made the autumn fairy, above), however it is quite spendy.  We were given our original set years ago by a dear friend who had gone to Waldorf school as a child, and knew how magical modeling wax could be for kids.  Over the years, I have replaced individual sheets one at a time as needed, but we try conserve and re-use every precious piece.
I recently learned that you can make your own modeling beeswax for far less cost than those lovely Stockmar sheets.  Maybe sometime (if I can find an affordable source of local beeswax), we'll give the recipe a try.
As the sun sets, and we settle in to the weekend.  I'm looking forward to a quiet day tomorrow, to catch up on housework and sewing projects, and read-aloud with the children as a late-autumn storm is forecast to roll through.
Blessings on your weekend.