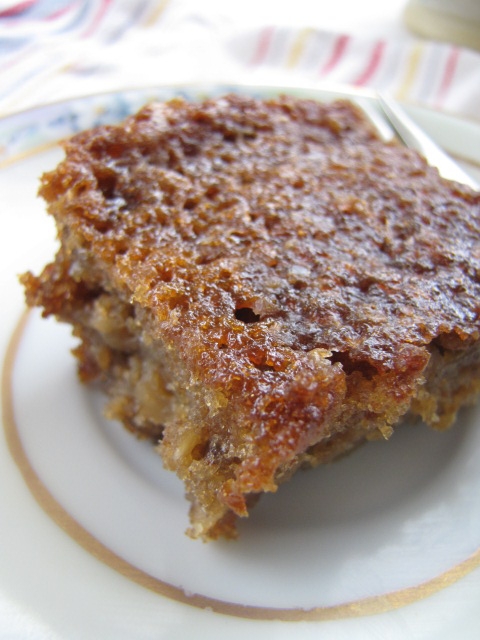 George peered out the window this morning and asked, "Where all my snow go?" Â Winter's brief visit has ended, leaving us a landscape of sodden ground and emerging daffodils.
While we were snowed in for four brief days, I baked – and my voracious mob of children consumed – four loaves of bread, endless desserts, and two 9×13 dishes of oatmeal applesauce cake. Â The original gluten-free recipe can be found here, but due the flurry of baking and our inability to get to a grocery, I was forced to rework the recipe around the contents of my pantry. Â The resulting changes yielded a moist, chewy, delicious dessert as good or better than the original, so I thought I would share the altered recipe here:
Make-Do Oatmeal Applesauce Snack Cake
In a small sauce pan, combine:
1 C whole milk
1 1/2 C applesauce 
1 heaping C rolled oats (NOT steel-cut)
Cook together on med-low heat, until oats are cooked thoroughly. Â Allow to cool to room temp.
While the oat mixture cooks, use a stand mixer with paddle attachment to cream:
1/4 C unsalted butter
1/4 C hazelnut oil (or other mild-flavored oil)
3/4 C sugar (I used natural unrefined sugar)
1/4 C maple syrup
1 C dark brown sugar
1 tsp pure vanilla extract
Add 2 large eggs (I used duck eggs), one at a time, and beating thoroughly between each addition.
In a separate bowl, combine dry ingredients:
1/2 C whole wheat flour
1/2 C spelt flour (you can use an additional 1/2 C whole wheat if you don't have spelt flour)
2 tbsp flaxseed meal
1 tsp baking soda
1 tsp salt
1 tsp cinnamon
1/8 tsp nutmeg
pinch of clove
With mixer on low, slowly add dry ingredients and mix until just combined. Â Fold in cooled applesauce mixture. Â Pour into a greased 9×13 casserole dish, sprinkle with natural sugar. Â Bake at 350F for 30-35 minutes, or until a cake tester comes out relatively clean. Â Cake will be moist and gooey. Â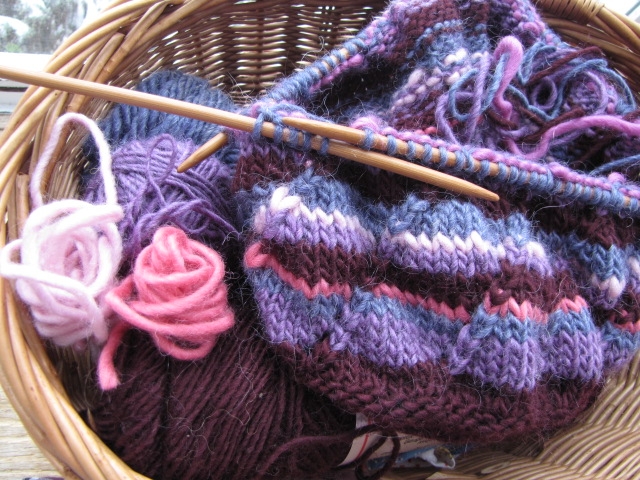 In the midst of cabin fever, worked on lots of craft projects. Â Between outings in the snow, I accomplished a fair amount of knitting, while the kids went through a ream of construction paper. Â The living room was strewn with paper snippets, duct tape, crayons, stickers, and creative energy. Â Ruth was cranking out Valentine's, Bea built a blue paper TARDIS, and Hal and George created a giant stack of doodles.
Sandra's Slouchy Beret (above) was a fast, easy project – perfect for knitting while watching Dr. Who with the family.  It is made from scraps of yarn, and completed in a few hours.  The beret is currently blocking (a necessary step), and I've already cast on another quick-knit.
Sharing with Ginny's Yarn Along today. Â I hope to be back before the weekend with some gardening posts, as we redesign some beds, add perennials, and begin seed starting for the 2014 garden year!!