Most of us have come down with the first cold of fall.  If you ask me, nothing is better for a cold than kimchi.  The spicy sourness of this traditional food eases cold symptoms and it is rich in probiotic power.  (It is also good for easing morning sickness, especially when made into soup with noodles.)
Actually, one doesn't need an illness or excuse to make and eat kimchi. Â This lightly-fermented probiotic condiment is simple to make, and is delicious on anything from pizza to scrambled eggs. Â  Throw some in the middle of your grilled cheese and you won't be sorry. There are many variations, but most kimchi starts with Napa cabbage. Â From there, family recipes vary quite a bit. Â I arrived at my own recipe after trying many, many different recipes, combining the elements I liked from each. Â I also use a hot pepper paste recommended by the owner of my local Asian market, which I prefer to recipes calling for powdered pepper blended with dried shrimp, sugar, and other ingredients.
Here's my recipe:
Simple Kimchi
2-2 1/2 lbs of Napa cabbage
1/2 cup kosher salt
2 large glass or ceramic (non-reactive) bowls
cold water to cover the cabbage
Prepare ahead: Chop Napa cabbage into one to one-and-a-half inch pieces, including the ribs. Â Divide the cabbage between the two bowls, sprinkle each bowl with 1/4 cup kosher salt and gently massage the cabbage a few times (do NOT used iodized salt. Â It will give an off flavor to the finished product). Â Add cold water to each bowl until the cabbage is covered (you may need to add a plate on top to help keep the cabbage submerged.)
Let bowls of salted cabbage sit at room temperature for 12-24 hours. Â Then drain the bowls and rinse cabbage thoroughly in cold water to remove the salt.
Dry the cabbage with a clean tea towel, scrunching gently. Â Place the wilted cabbage in a collander and allow it to drain completely. Â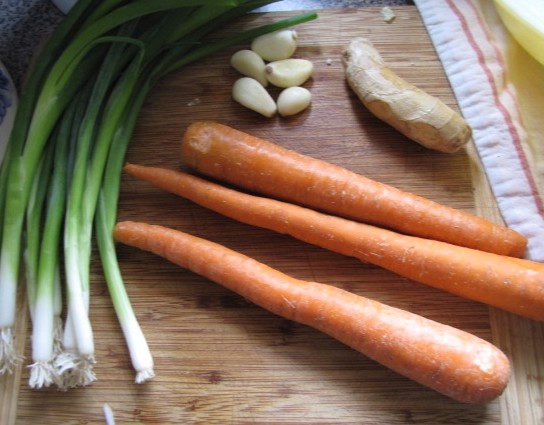 Now that the cabbage is prepared, you are ready to put the kimchi together.  (A quick note:  The pictures won't match the recipe exactly – Our Asian market was out of daikon, so I used three large carrots this time.  Kimchi is very adaptable.  Sometimes, if I can't find daikon, I will use two Granny Smith apples, an extra carrot, or add another 1/2 lb of cabbage.) In one of the large glass bowls, gather:
One small to medium white daikon, peeled and cut into matchsticks
2 large carrots, peeled and grated
6 scallions, root end and the very dark green portions removed, and finely chopped
1/3 cup Korean hot pepper paste (if your brand doesn't include sugar, add 1 tsp sugar to it)
1/4 cup fish sauce (Golden Boy brand is very good, but if you can't find it, ask your local Asian grocer which s/he prefers.)
A thumb-sized piece of fresh ginger, grated (including juice!)
5-7 cloves of garlic, crushed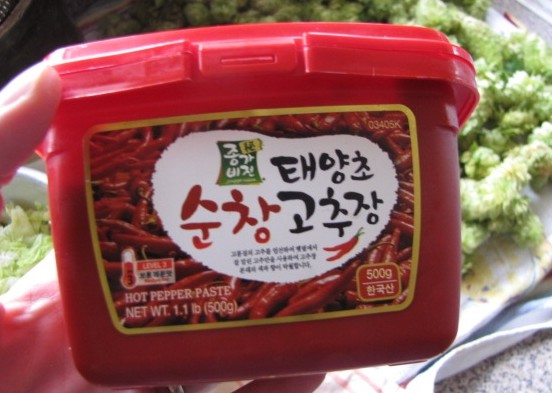 I used to use ground hot peppers, and mixed them with other ingredients, including sugar and dried shrimp.  One day, the owner of our Asian market saw me scanning the shelves and asked what I was looking for.  I told him hot pepper powder for kimchi, and he said, "You should try this instead.  It's what all my Korean customers buy."
I'm very glad I tried it. Â The pepper paste is delicious, spicy, sweet, salty, and makes a great kimchi. Â I don't like my kimchi super spicy, so if you do, increase the amount of paste to suit your taste. Â If you are worried about using up the whole tub, it also makes a fantastic spicy rub for BBQ beef or pork.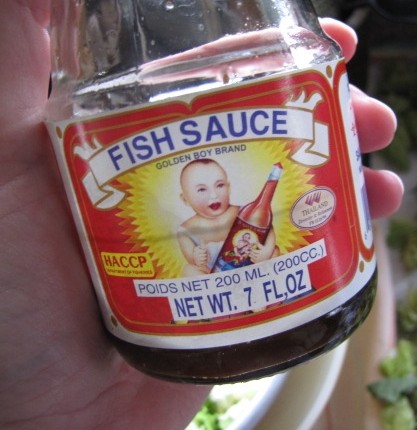 The market has an overwhelming array of fish sauces.  The flavor can vary quite a bit, so if you aren't sure which to pick, ask the grocer.  If you haven't cooked with fish sauce before, be prepared – it smells horrendous.  But it is full of delectable umami flavor, and vital to the dish.  Flavor isn't the only reason it is necessary, however – fish sauce is fermented, and will help jump start the fermentation of your kimchi.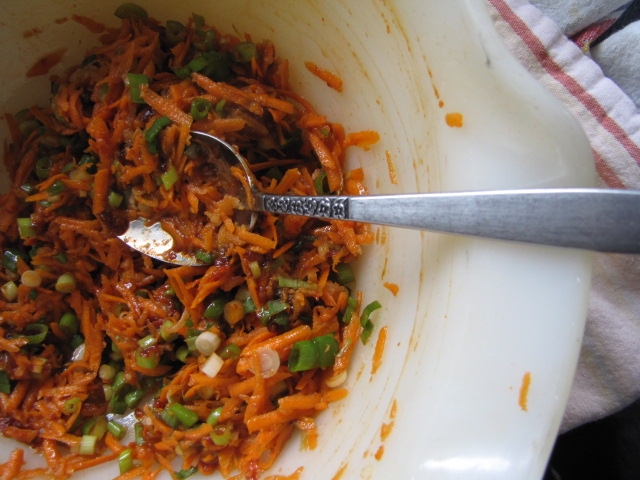 Mix the ingredients in the bowl together until the garlic, ginger and pepper paste are thoroughly distributed.  Then, by hand (you may wish to wear a glove because the paste can make your skin burn a bit), add the cabbage and mix it into the other ingredients, scrunching it with your hand as you go.
  Put the kimchi into a fermentation vessel (or two quart jars), packing the ingredients in tightly as you go.  Amongst fermented condiments, kimchi is the most notorious for making a lot of liquid, bubbling over and escaping the vessel.  Because of this, I leave ample head space before adding the weight.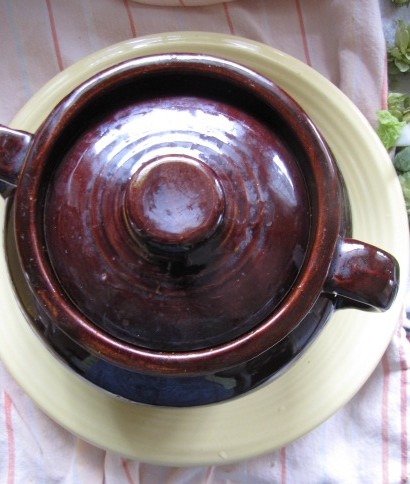 Place the weight and lid on your vessel.  This will keep mold spores and other contaminants out.  If using a mason jar with lid and ring, leave the ring loose, so gases can escape and your jar doesn't crack.  Place the vessel on a plate to catch any juice that bubbles over during fermentation.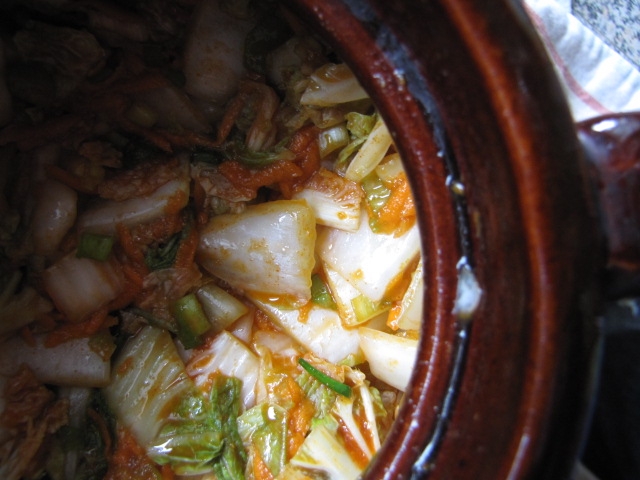 Leave the kimchi on the counter at room temperature for 24-72 hours, tasting it every day, and moving it to the fridge when it as bubbly and sour as you like. Â Be aware that by the second day, a lot of liquid may have bubbled over. Â This is normal, and a sign that the good bacteria are creating a health pickled food. Â (Kimchi is lightly fermented, and unlike sauerkraut, is ready in days instead of weeks. Â Leaving kimchi on the counter too long will result in a mushy, unpleasantly sour final product. Â Once it is moved to the fridge, kimchi will still slowly ferment. Â Enjoy it in the first two weeks after you make it for the best possible crunch and flavor.)
(Joining Wooly Moss Roots for her Gratitude Sunday today.  Very grateful that in the midst of feeling crummy, I can make something to help us feel better and get better.  It's good to take care of my family after months of being unable to do so.)
More from out in the garden early in the week.