Sometimes, an abundance of ingredients in the pantry necessitates the creation of a new recipe. Â We had bag of fresh local cranberries in the fridge, a few handfuls of lingonberries from the garden, and a glut of locally-grown hazelnuts. Â A perfect collection of ingredients for a truly Oregonian Autumnal tart.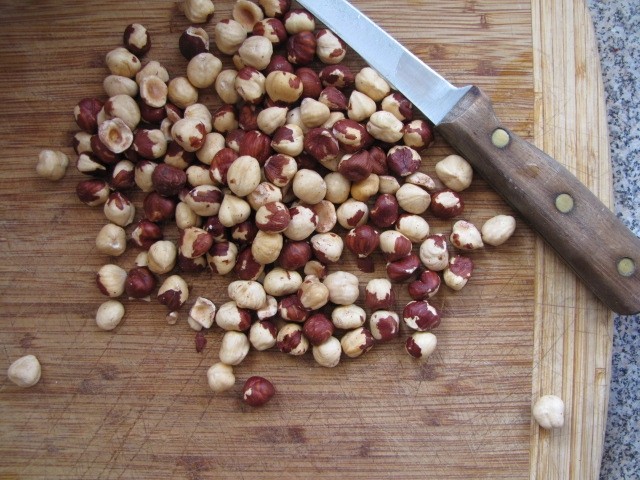 Oregon Autumn Tart
Ingredients:
1 sheet puff pastry
For the filling:
2 1/2 C fresh cranberries and lingonberries, washed 
1 1/2 C granulated or unrefined natural sugar (you can use 1 C for a more-tart dessert)
zest of one orange (I prefer to use a microplane for a very fine zest)
For the topping:
1/2 C unsalted butter, softened
1/2 C light brown sugar
1/2 C granulated sugar
2/3 C unbleached flour
pinch of salt
1/4 tsp nutmeg
1 heaping C hazelnuts, coarsely chopped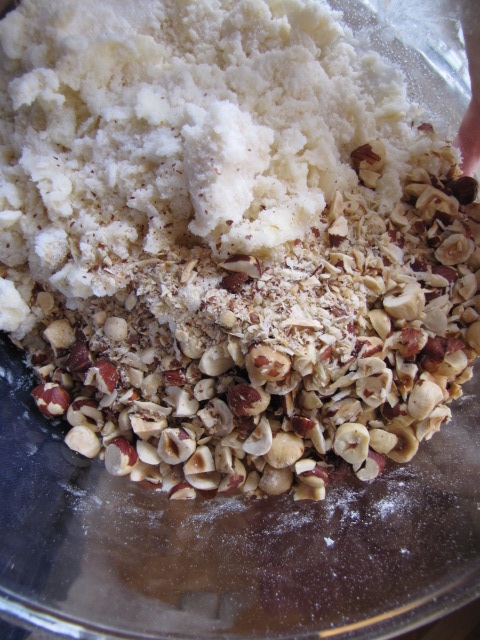 Directions:
In a large bowl, combine butter, sugars, flour, salt and nutmeg. Â Using a pastry cutter or a clean hand, cut butter into other ingredients until it is in pea-sized pieces. Â Then, fold in hazelnuts. Â Set aside. (Can be made one day in advance and refridgerated.)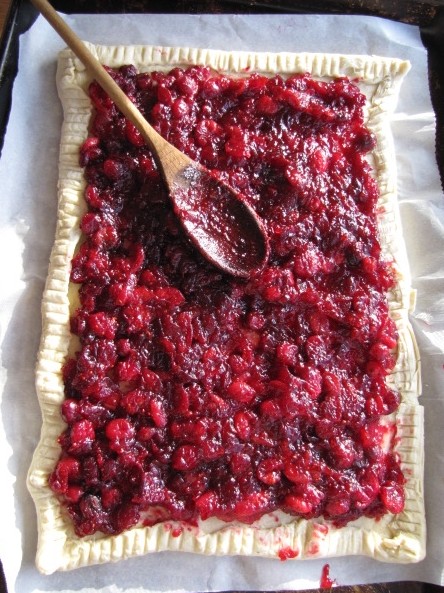 In a large skillet, combine berries, orange zest, and sugar.  Cook on medium heat, stirring often.  (As the berries pop, their juices will dissolve the sugar.)  Use the back of your spatula to crush the cranberries as the cook, and continue to simmer until mixture is thickened and all berries are beginning to cook down.  Remove from heat and allow to cool completely. 
While berries are cooking, roll out puff pastry to fill a jellyroll pan.  Place on parchment paper, and then in jellyroll pan.  Roll the edges of the puff pastry over and use a fork to crimp them down.
Preheat oven to 375F. Â Spread cooled berry mixture evenly over the pastry with a spatula. Â 
Sprinkle streusel-nut topping over the berries, pressing it down gently.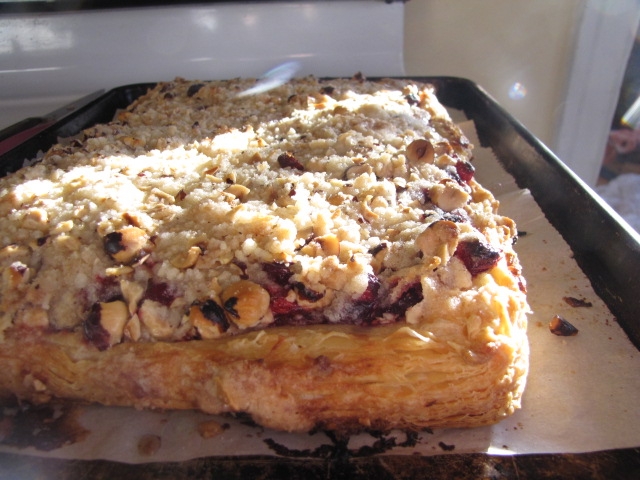 Bake for 25-30 minutes until pastry is puffed and golden, berries are bubbling, and streusel topping is begins to turn golden.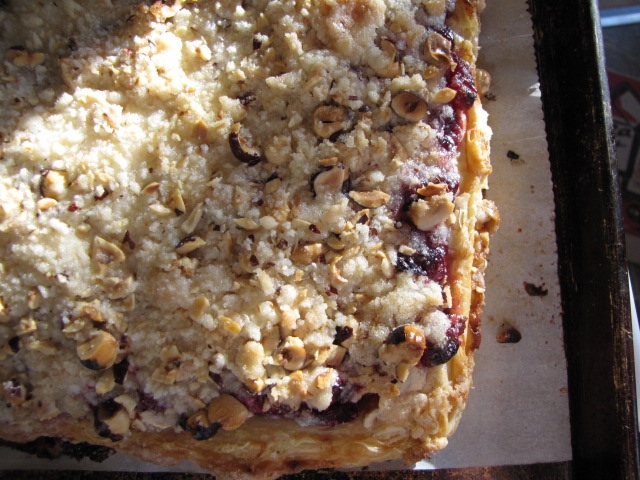 Allow the tart to cool thoroughly before cutting into squares. Â Serve with whipped cream if desired.
I confess, leftovers of this tart made for a pretty darn good November breakfast with a cup of coffee.
Hope you are enjoying all the good things of the season, too.