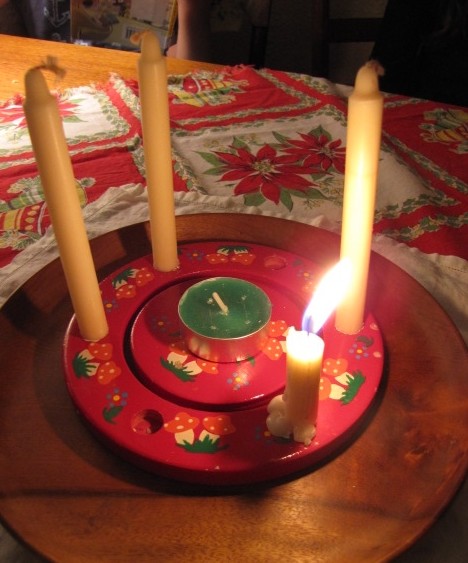 Slowly, slowly, we are beginning to decorate for Christmas.  Advent candles and readings at dinner…working with Grandpa on a new homemade Advent Spiral (because we currently use a little birthday ring from my preschool years in Germany)…Christmas toys appearing in corners of the house where the boys are sure to find and play with them.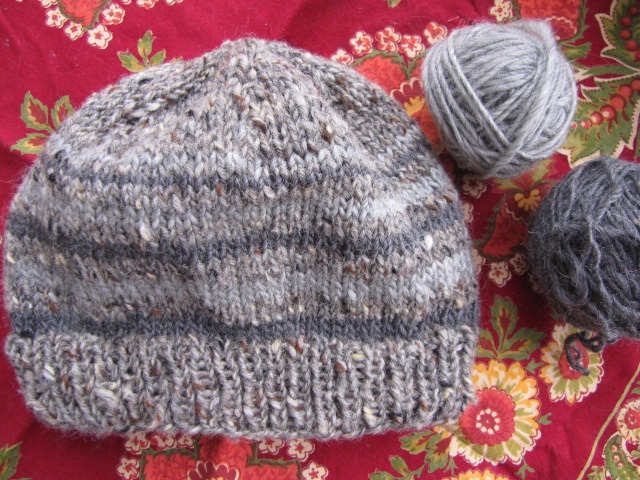 …and Christmas knitting continues in earnest.  George is growing like a weed and needs new hats.  While watching a documentary or two late at night, I knit up a little stocking cap for him (no pattern, just wingin' it).  It is a study in grey, using leftover Kilcarra of Donegal tweedy yarn, and Brown Sheep Lamb's Pride Worsted I've had in my yarn dresser for years.  George is really into wolves at the moment, and I am deliberating adding some ears to the top of the hat.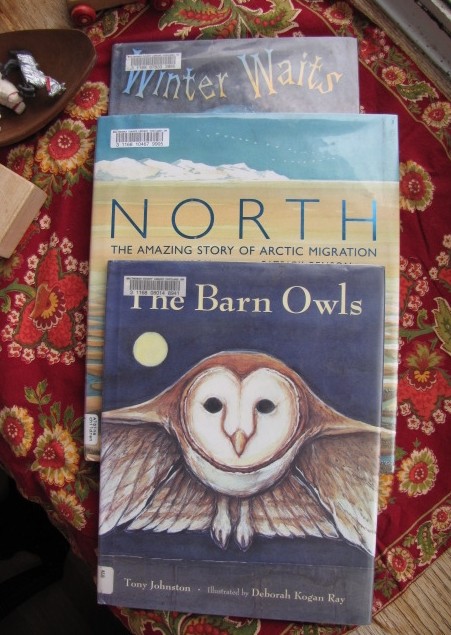 In order to get library books in time for the correct season, I place holds on them 3 or 4 weeks ahead of time. We discovered years ago that if we wait to visit the library for books right when we need them, they will all be checked out. Â Ordering well in advance is very important not only for seasonal books, but also to make sure we get homeschooling resources in a timely manner – and we have a home educator's library card so we can place a hold on 40 items at a time.
This week, more than 20 winter books came in for us, and we have been pouring through them.  Right now, most are Arctic and winter nature books,and Waldorf-y books, but a whole stack of Christmas/Nativity-themed holds should be in at the library later this week.  With the darkness descending by 4:30 in the afternoon, we have plenty of quiet time to read through every book we've checked out.
Joining Ginny for her Yarn Along today.