Yesterday was my sweet hubby's birthday!!  He had requested a beef pot roast with carrots, onion, potatoes (my mom's recipe, it's unbelieveably simple and ridiculously tasty) and a side of egg noodles for his birthday dinner (This is a real treat – we only eat meat about one or two days a month, and then usually only a small portion). 
We are having cake later today with his family, so I made him a cashew pie (his favorite) for dessert.  Firecracker helped roll out the dough and she did the edging of the crust with a fork all by herself.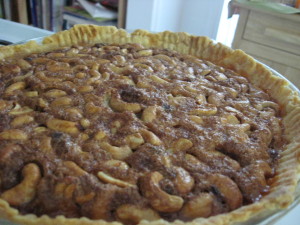 Larksong's Cashew Pie
One pie crust (see the recipe I use here), rolled out and chilled.
1 cup sugar
3 eggs, lightly beaten
1/3 cup unsalted butter, melted and cooled
1 cup dark Karo corn syrup (believe me, it's much better with dark instead of light)
1/2 tsp Penzeys sweet curry powder if you're feeling brave  or 1/2 tsp pure vanilla extract
1 cup salted, roasted cashews
Directions:
Preheat oven to 375 F.  Beat first five ingredients until well blended.  Gently stir in cashews.  Pour into prepared pie shell and bake for 50-55 min. or until pie is set and cashews are golden brown.  Let cool and serve with ice cream. (If you add the curry powder, consider serving with cinnamon ice cream if you can find it.  It's a yummy combination.)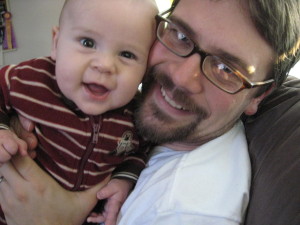 Happy 33rd birthday, Hubby!!  We love you very very much!