I roasted a Butternut Squash one morning this week in order to make flax-seed meal squash bread (tastes much better than it sounds!).  It was doubly nice, because it  warmed the chilly house and the smell of roasting squash was so yummy. 
The bread only takes 1 3/4 cup squash, so i had quite a bit leftover.  My mom had told me how much she and dad liked the butternut squash gnocchi recipe from a recent issue of our favorite magazine (below).  So, I thought I'd give it a try.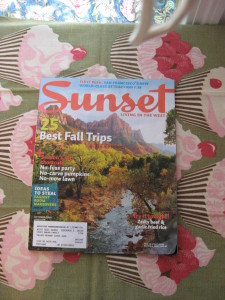 The gnocchi were easy to make (and less fiddly than Martha's recipe).  Firecracker and I whipped up a batch really quickly (while Tum-Tum slept and Little Hen did watercolor painting).  We made a little bit of a floury mess, but the results were delicious!  I made it a one-dish vegetarian meal by serving the gnocchi with sauteed shallots, walnuts, and peas – all tossed in melted butter and loads of fresh-grated parmesean.
Others who are enjoying the squashy goodness of fall – Soule Mama…you?  If you're loving the abundance of squash this fall and have a good recipe, please share it!  I am always looking for recipes to use up the pile of winter squash under my kitchen table!
Edit – A couple of folks requested the recipe.  Here it is:
2Â cups roasted butternut squash (or check out Sunset's website for info on microwaving a squash)
1/2 tsp salt
1/4 tsp each white pepper and nutmeg
3- 3 1/2 C unbleached flour
3 tbsp melted butter
1/2 cup freshly grated parmesan
freshly ground black pepper
Directions: Combine squash, salt, pepper, nutmeg.  Stir in flour, 1 cup at a time, until soft dough forms.  Turn out and knead 10-12 times, adding more flour if it's too sticky. 
Divide dough in 4 pieces, and roll each out into 3/4 inch thick rope.  Cut into 1/2 inch slices, and set aside on a floured baking sheet.
Heat a pot of salted water to a boil.  Boil gnocchi until they float to the surface (about 4 minutes), and then cook another 30 seconds.  Remove from the water and toss with melted butter, cheese and black pepper [Here is where I added the sauteed shallots and walnuts. I blanched the peas in the cooking water, and added them as well – maybe two handfuls of peas and one handful of nuts.]
This recipe is copyright Sunset Magazine 2008.