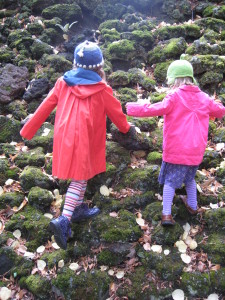 It's that time of year – cold days spent out-of-doors that chill your nose and toes, and the colder nights that follow.  At our house, that means slow cooked meals that can simmer on the stove for hours, warming our little home and filling it with wonderful aromas.  (I think I instinctually add richer ingredients as well, which often leads to a little fall padding on me and my hubby.  Good thing I'm nursing a ravenous baby boy, so my waistline is shrinking instead of expanding this fall!)
I know we're not alone, but lately we're feeling the economic pinch a bit, so dinners have been thriftier, but no less tasty, enjoyable, and healthy.  The following dinner cost us about $6 for 4 people – including a large side of steamed basmati rice –  although a year ago, it would have cost closer to $3.50.  
Larksong's Pumpkin Banana Chickpea Curry 
1 small local winter squash, peeled and chopped into 1 inch pieces (i like a dry-fleshed variety, and often use half of a Hubbard or Kabocha squash, but today it was a pale buttercup, that's what the farmer's market had available.) (wash and save the seeds for roasting!  They make a wonderful snack!)
2 medium bananas, peeled and chopped into 1 inch pieces
5 small local shallots, sliced into thin rings
2 tbsp virgin olive oil
1 can chickpeas, drained
1 can organic, unsulphered coconut milk (I splurge here because I don't react well to sulpher dioxide preservative)
1 handful roasted peanuts
1 handful organic chopped parsley
1 heaping Tbsp Penzeys Sweet Curry
Directions:  In a heavy pot, sautee the shallots in the olive oil until soft.  Add the pumpkin, and cook 5-7 min.  Add the curry to coat the pumpkin, until fragrant, about 1-2 min.  Add the remaining ingredients, except banana, bring to a boil, then reduce to simmer, and cook, covered, 15 min.  Add banana, and continue to cook until pumpkin is soft, about 10 min more.  Serve over basmati or jasmine rice.
Sauteed Kale with Lemon
4 Large handfuls of Red Russian kale (the kids pick it for me from the garden), remove stems and chiffonade.
1 half lemon, washed and zested and juiced
3 cloves garlic, sliced very thinly
Directions: Sautee the garlic on olive oil on until caramelized.  Add the kale and lemon zest and a little water to the bottom of the skillet.  Cover partially and steam until water is gone and kale is tender (don't over cook here!).  Drizzle with the lemon juice, add salt and pepper to taste.