These wooden circus blocks are my all-time best thrift store find.  We bought them when Little Hen was two and Firecracker was a newborn.  At the time, we were on a super tight budget, since Hubby was in grad school.  The set was $12, and I really wanted it for the girls, but we couldn't rationalize the price.  I waited for weeks, hoping no one would snatch it up, and what do you know, it went on sale for $6!! 
The blocks are all hand carved from various woods, and includes a bear and a cub, two camels, two alpaca, a donkey, an elephant, a giraffe, two horses, two men, a tractor, a see-saw, various blocks, and a circus box.  I can tell that they were gently played with, because they are in beautiful shape, but also have a smoothness and patina from being handled frequently.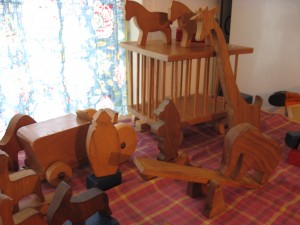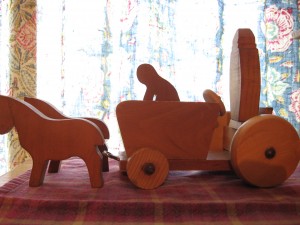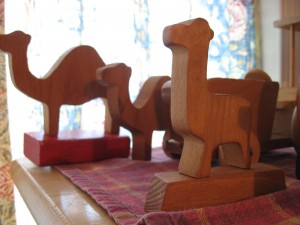 I kept these in our "gift box", waiting for the right time to give them to the girls.  For 3 1/2 years we waited, and ended up giving them as a welcome gift from their new baby brother on the day of his birth.  They have been a big hit around here, especially with Firecracker, who likes to stack the animals into tall towers.
Some great blogs with lovely wooden toys – Woodmouse, Mamaroots, Ninny Noodle Noo, Waldorf Mama.
Do you and your little ones have a favorite wooden toy set?  If so, I'd love to see it!  Next time – Handmade dolls.