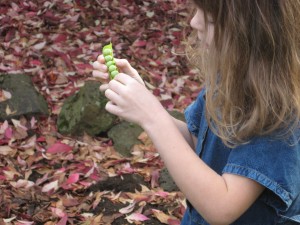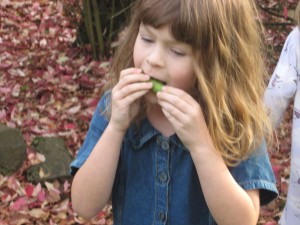 Yesterday was an unusually dry, warm day in the Pacific Northwest.  We couldn't have asked for nicer weather – almost 60 and a nice, blue sky.  After Hubby helped friends load their moving truck, he came home and spent the afternoon raking leaves in the backyard with the girls (As you can see, the leaves were everywhere – it was quite a task!).
Little Hen kept taking breaks from the leaf raking to snack on some peas.  (Our Alaska, Tacoma, and Sugar Pod II varieties are still producing, and are miraculously healthy and free of powdery or downy mildew, despite the rainy weather of late.)
Of course, a few were left by the Garden Fairy's house that Little Hen and her daddy made.  Afterall, she likes to share with her friends.  The peas absence in the morning will be evidence that her friends enjoyed her gift, of course. 
Wishing you a little late fall sunshine, and a handful of fresh, sweet peas.