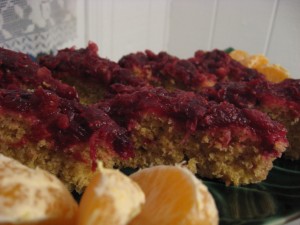 This is one of my favorite holiday cakes, mostly because I love cranberries and this cake highlights them so nicely.  It's quick and easy to make.  It is also tart, not too sweet (which is a good thing, because the holidays can easily be a sweets-overload on the palate), and is perfect with whipped cream.
The inspiration is from an upside down cake in Fannie Famer Baking Book that used canned cranberry jelly (which turned out, shall we say… less than super?   So, I reworked the recipe a lot, and feel okay calling it my own because it is now an entirely different cake from Fannie's.)
Larksong's Cranberry Upside-down Cake
 (serves 10-12, a small slice is just enough)
For the cranberry topping (which will go in the bottom of the pan):
1 bag fresh Oregon cranberries, rinsed, and picked through to remove unsuitable berries
2/3 C dark brown sugar
1 Tbsp orange juice
the zest of one orange (the more finely zested the better – I use a microplane)
For the cake :
 1 cup all purpose flour
1/4 cup whole wheat flour
3/4 cup granulated sugar
1 tsp baking powder
1/2 tsp baking soda
1/2 tsp salt
1/2 tsp pure vanilla extract
5 1/3 tbsp unsalted butter, softened
1/2Â  cup orange juice
1 egg, lightly beaten.
Directions: Preheat oven to 350F.   In a medium skillet (you may choose to use a cast-iron skillet here - somewhere around 9-inches, and just bake the cake straight in the pan), on medium heat, cook the cranberries, orange zest, brown sugar, and tablespoon of orange juice until the berries pop, cook down, and reduce to a nice, thick consistency, stirring constantly to avoid scorching.   
Butter a 9-inch sprinform pan and transfer the cooked berry mixture to the bottom of pan, spreading into an even layer (if you can see metal at the bottom of the pan, that's a spot where cake will run in and show on the finished cake).  (Obviously, omit this if using a cast iron skillet.)
Sift together the flour, baking powder, baking soda, and salt in a small bowl.  In a mixer with beater blade, beat the butter and sugar until fluffy, then add vanilla, orange juice, and egg.  Add the dry ingredients slowly until just smooth and combined.  Pour over the cranberries and gently spread into an even layer.
Bale for 45 min or until toothpick comes out clean.  Let rest 5 minutes before inverting and removing from pan.  (You may need to arrange a few of the berries if they stick to the pan).  Garnish with a twisted orange slice and serve with fresh whipped cream.