Last year for Christmas, my father made me a nostepinne out of some black walnut he had been saving from a tree that stood in my grandfather's Indiana yard 40 years ago.  It is a really special gift, and I use it a lot. 
Yes, a ball winder is faster, but a nostepinne is portable, and the natural wood feels very nice in the hand.  It is easy to use once you get used to it, and makes nice self-pulling balls, especially handy if you knit on the go, looping your ball onto a holder, then on your beltloop and knitting while you walk around.  You can only do this with a self-pulling ball.
Some yarn I'm prepping (using my nostepinne) for a new project: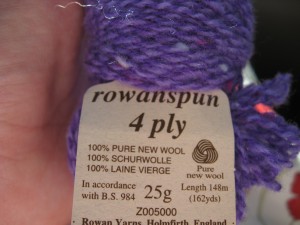 More on the project when I get a few inches completed.
Thanks to everyone who has been leaving such thoughtful and encouraging comments of late.  I am truly honored and overwhelmed at the recent traffic on my little blog, and I really appreciate your kind words.  Those of you with blogs of your own – I am daily inspired and challenged by your creativity and domesticity and artistry.  Keep posting, I'll keep reading and learning from you!