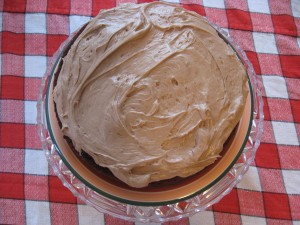 I know it seems that I'm a bit frosting obsessed  (Sour cream, mocha , honey cream cheese, you name it, I love it!), but let's be honest, a good frosting really does makes the cake.
So, how had I -a confessed frosting addict- never heard of Marshmallow Cream frosting until recently?  One of my husband's coworker's had made cupcakes with the creamiest, yummiest frosting, and I asked her what her secret ingredient was.  She replied, "Marshmallow cream!"
Below is my chocolate version, but the original is here.
Larksong's Chocolate Marshmallow Frosting
1/2 cup room temperature sweet cream unsalted Tillamook butter
1- 7 oz jar of marshmallow cream
a handful of chocolate chips (I actually used a Lindt Chocolate Snowman I had left from my Christmas stocking, I just chopped it up.)
16 oz confectioner's sugar
1/4 cup Dutch process cocoa
3-4 tbsp whole milk
Directions –
1. Sift confectioner's sugar and dutch cocoa together in a bowl.
2.Melt chocolate in the microwave in 15 second intervals, stopping to stir in between, until melted.
3.In Kitchenaid mixer with whisk attachment, beat the melted chocolate, softened butter and marshmallow cream until fluffy and combined.
4.  Slowly add the confectioner's sugar and cocoa mix, then trickle in the milk until desired consistency is achieved and frosting is fluffy.  Spread on chocolate cake or cupcakes.  Makes approx 3 cups.