This was a first try for strawberry-banana jam, so I simply used the recipe from Sure-Jell's website, instead of fiddling with one of my own (why reinvent the wheel, right?).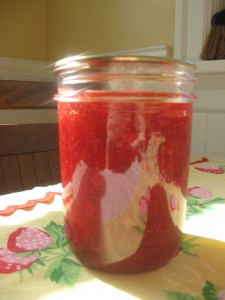 The jam was beautiful, and very very tasty, and although maybe a little too sweet (I like some tartness to my jam, but the kids thought it was perfect).  I also found less of a problem with floating fruit than in other strawberry-based jam recipes.  This recipe is definitely a keeper (maybe with some more strawberries and one fewer banana, since the banana flavor overpowered the strawberry a little bit?).
Up next, plain-and-simple strawberry and strawberry-lime (and soon, the raspberries and blueberries will be in!)  I make about two batches a week during the summer, and my kitchen is always open for a jam-making get-together,  so come join me!