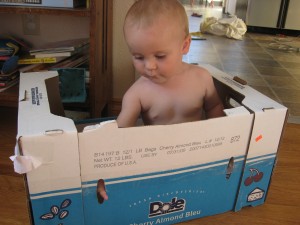 Tum Tum playing peek-a-boo with his own fingers for quite a while this afternoon.  I love how he chuckled quietly to himself  every time his finger peeked through the boxes' holes.
Later in the day, the box was turned into a race car as the girls gave him rides around the living room, and currently it is a shopping cart full of play food as he walks it in a circuit around the playroom, adding more food every time he passes the play kitchen.
Yay for simple, free, imaginative play!