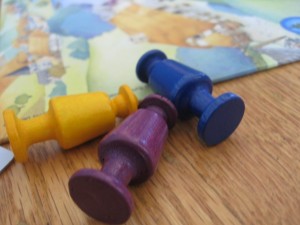 The girls have progressed in their literary obsessions from Little House to Narnia, and now to all things Robin Hood.   They (and their daddy) also happen to love collecting and playing board games of all types, so when they came across  Ravensburger's Robin Hood Board Game at the thrift store this week (for 75 cents!), they snatched it up.  (I love Ravensburger's games – their beautiful wooden pieces, interesting themes, and content that is so appealing to children an adults alike.)
The kids and I are sick with a sore throat, and considering the 95 degree heat outside, today seemed like a perfect opportunity to try out our new game while we tried to take it easy and stay cool.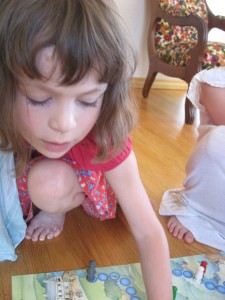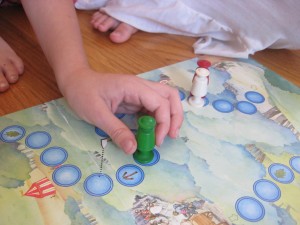 We all really enjoyed the game, and would recommend it to anyone with primary-aged children.  (The game is played in four quick rounds, which helps keep a younger child interested.)   Firecracker says the best thing about the game was "winning!!"
If you get a chance, check out Garden Mama's games while hiding out from the summer heat.
What board games are a favorite in your home?