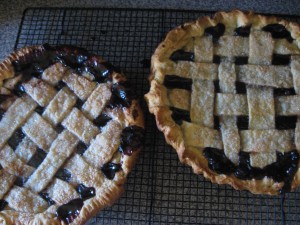 Another family at church has welcomed  their first baby.   It's our privilege to bring them dinner tonight (and ooh and ahh over their little boy), so the girls helped me bake some Blueberry-Raspberry- Marionberry pies to take for dessert (I love living in the Northwest!).
Firecracker helped with the lattice top, and Little Hen shaped the edges (I love seeing a child's hand in the process).
We always make some extra dough so that the girls can make their own little hand pies, dusted with sanding sugar,  for a good morning snack.
Some other yummy goodies with berries being made recently at Charming the Birds, and Imagine Childhood.
What's your favorite summer berry recipe?