Last week we traveled north to Ridgefield, WA for the Clark County Fair.   The kids' aunt and uncle, niece, grandparents, and great-grandparents met us there for an afternoon full of livestock viewing, carnival rides, and ridiculously unhealthy food.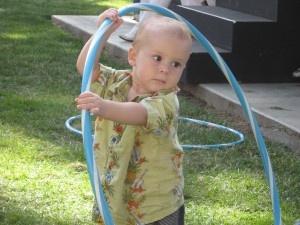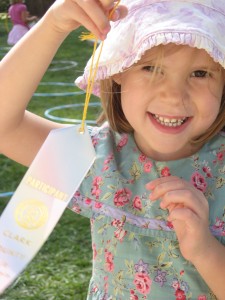 All of the kids enjoyed the hula-hooping contest, and my niece (with the white ribbon in her hair) took first place!
And of course, we had to have a little fair food – this is a deep-fried Snickers.  So deadly.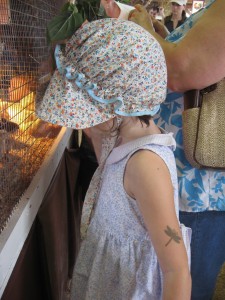 We spent a long time in the poultry barn – I kept having to bend down so Tum Tum could get a good look at the birds.   He especially liked the runner ducks in the pens outside, and had a nice little conversation with them.
I'm sure like most spinners, my favorite place is the sheep barn (well, maybe tied with the produce competition…or maybe the preserves table…so hard to choose.)Â  They had a nice spinning demo and information on Kool-Aid dying fiber, and lots of 4Hers had entered their fleeces for judging.
It was hard not to be envious of the gorgeous wheel the volunteer was using.   She asked Little Hen if she knew how yarn was made, and Little Hen answered, "Of course, my mama uses a 'drop spindler' and makes her own yarn.  Someday we're going to get a fancy wheel like yours and then I'll get to learn how to use it. " I don't think that was quite the response the woman expected.  (That girl is never short on answers.  6 year-olds can be so…confident in themselves, can't they?)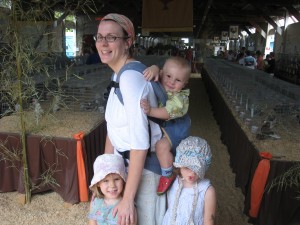 Have you been to your local county fair?  Or state fair?  We're hoping to make it to the Oregon State Fair one of these years.  I hear it's a must-see.
Thanks so much for all of the comments on my giveaway.  I never expected so many!  I hope to have another giveaway soon.  Winner will be announced later this evening.  Thank you!