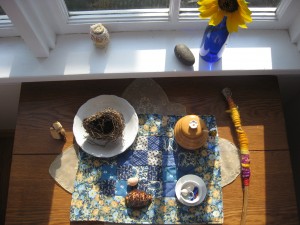 The Magic Onions is hosting a Friday Nature Table group.  I should have posted yesterday, but life got busy, so for us, it's a Saturday Morning Nature Table sharing.
This was a great idea – I was able to catch up on a LOT of blogs I haven't had the time to get back to in a long while.  The girls and I had a good time looking at everyone's nature posts (Firecracker especially loved the fairy fortress at Muddy Schoolhouse) .  We will have to make the rounds again next Friday – lots to learn from and enjoy.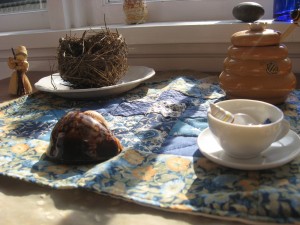 A few more shots of our Nature table in the early morning sunshine.  Little Hen found the old bird's nest in a stand of bamboo we are clearing out of our backyard.  The honeypot was a gift from her grandmother.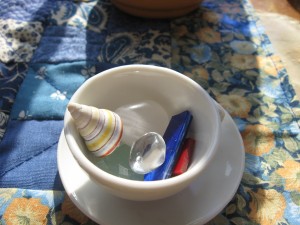 Some little treasures the girls have collected in the past week or so and keep in a dolly tea-cup.
Our summer nature table tends to be less cluttered (like Heirloom Seasons says, it's constantly changing and will fill up with autumn's bounty soon enough!).  The Clean Plate Club also has a restful, uncluttered nature table – with a beach theme.
I confess, with Tum Tum walking and able to reach EVERYTHING on the nature table, I keep the items on a tray up high, and when the girls are interested in it, I bring it down.   With so many chokeables, breakables, delicates on the nature table,  it's the best – if an imperfect – option for right now.  (I also like Kinder Beginnings' shadow box approach.)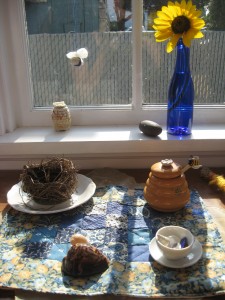 What's on your childrens' nature table?  What are they connecting with the natural world?  Join the sharing at The Magic Onions.
Oh, and one more reminder – giveaway coming up VERY soon!